Pros
Fenugreek Seed Extract boosts T and libido
Euryoma Longifolia Extract raises libido
Boron supports healthy testosterone levels
Cons
Missing key test boosting nutrients (eg. Vitamin D3)
Eurycoma Longifolia Extract has no effect on T levels
Not great serving size (only 2 capsules per day)
---
---

About The Product
Essential Test is a testosterone booster made by Furious Formulations. It costs $49.99 for 30 serving containers, with a serving size of 2 capsules daily.
Unfortunately, this isn't a great serving size; studies have shown that consuming 3-4 capsules throughout the day keeps your body fuelled better.
However, from first glance, we're glad that there are no proprietary blends (so you can see the exact dosage of each ingredient), and that it contains some effective nutrients such as Fenugreek Seed Extract.
We"ll expand on this and more as we take you through each ingredient in the next section. But first, we'll tell you more about the company behind it.
Who are Furious Formulations? 
Furious Formulations are a supplements company founded by fitness/entertainment YouTuber, Furious Pete. Their 'about us' page doesn't tell you much about the company, so we didn't learn which year the company was founded etc.
They've made other products, including pre-workouts and fat burner products. But you're here to learn more about Essential Test.
So let's see which ingredients have been added to this testosterone booster below…
---
Essential Test Ingredients Explained
We like that Essential Test contains 5 ingredients; we believe that less ingredients is better, as this gives companies a better chance of optimally dosing each one within their budget.
As we mentioned, our first impressions of Essential Test are good. It contains Fenugreek Seed Extract which has proven to raise your testosterone levels and libido, with Boron also having a positive effect too.
But some negatives are that Essential Test is missing key nutrients such as Vitamin D3 (which is arguably the best in terms of raising your T levels).
Anyway, we'll take you through each ingredient inside Essential Test in this section. By the end of this review, you'll know exactly how safe and effective this testosterone booster really is.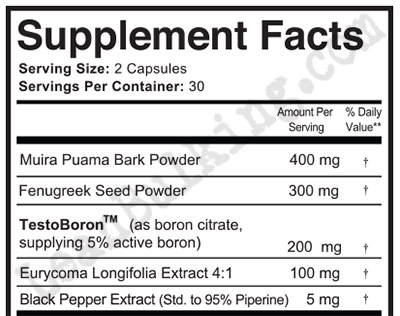 Here's Everything You Need To Know:
Muira Puama Bark Powder 
If you haven't heard of this ingredient before, then there's a reason why – not much is known about it at all.
Muira Puama is a herb that's been traditionally used as an aphrodisiac in Brazil. However, there hasn't been any study that suggests it's able to raise your testosterone levels reliably yet.
But that doesn't mean it's useless; Muira Puama Bark Powder is believed to raise your cognition.
However, a boost in cognition isn't necessary when taking a testosterone booster such as Essential Test. For this reason, we consider this to be an unnecessary addition here.
Fenugreek Seed Extract 
Fenugreek Seed Extract is the best ingredient in Essential Test when it comes to raising your testosterone levels.
Why? Because numerous studies have proven that it's able to raise your testosterone levels and libido effectively.
The best thing is that the same studies show Fenugreek Seed Extract to work in dosages as low as 50mg per serving; as Essential Test contains 300mg, it'll be effective in Essential Test.
Good job by Furious Formulations here.
Boron 
Boron is a trace essential mineral that's known to help support healthy testosterone levels. You can consume this naturally through foods, such as vegetables, pulses and fruit.
However, like how you don't want to drink 8 cups of green tea per day, it's much more efficient to consume Boron through a supplement.
It's not the most effective ingredient you'll find in testosterone boosters. But the important thing is that it's proven to support your T levels (making it more effective than most nutrients in Essential Test).
---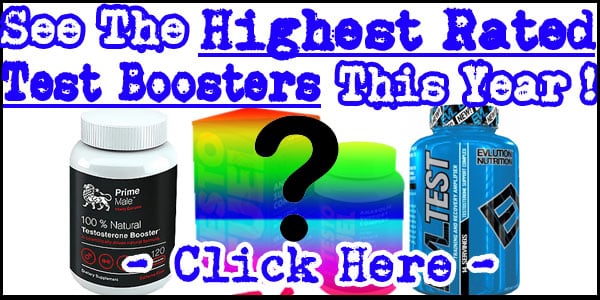 ---
Eurycoma Longifolia Extract 
Also known as Tongkat Ali or Longjack, this is often added into testosterone boosters due to having a positive effect on your libido.
However, the bad news is that Eurycoma Longifolia Extract hasn't proven to raise your testosterone levels at all. So if you're looking to boost your T levels, this isn't the best option.
We would have preferred to see a tried-and-tested nutrient such as Vitamin D3 here, which most nutritionists will agree is arguably the best at getting the job done.
But on a positive note, the raise in libido by taking Eurycoma Longifolia Extract makes it a great 'bonus' to have in Essential Test.
Black Pepper Extract 
We just mentioned that Eurycoma Longifolia Extract was a great bonus addition to Essential Test. Well, Black Pepper Extract is definitely a 'bonus' here.
Why? Because it has no effect on your testosterone levels, but has shown to help improve your digestion and the absorption rate of nutrients inside.
For this reason, Black Pepper Extract is a useful ingredient to have, but it's not always necessary either.
---

---
Side Effects
The good news is that Essential Test doesn't contain any ingredients likely to cause any side effects. In fact, we're very glad that Furious Formulations have done their research and haven't added Tribulus Terrestris (which is a mistake many companies make).
So we can give Essential Test the 'all clear' in this section. Very good work from Furious Formulations here.
---
Essential Test Review Conclusion
We're actually quite happy with what we've seen; Essential Test doesn't contain any bad ingredients, which is very refreshing to see.
The only really unnecessary addition to this testosterone booster is Muira Puama Bark Powder, as it doesn't have any effect on your T levels. But even this doesn't come with any bad side effects, so it's not a problem.
Ultimately, we would have preferred it if Essential Test contained more key test boosting ingredients such as Vitamin D3. But there's really not else to complain about here.
[wp-review]
See The Best Testosterone Boosters This Year!
Here's the best natural testosterone boosters on the market for:
Faster Muscle Gains
Quicker Recovery Time
Decreased Belly Fat
Enhanced Energy & Sex Drive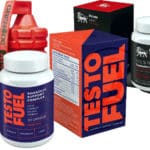 Click Here to See the Full List!