Pros
Citrulline Malate can enhance muscle pumps
Good dosage of Caffeine
Beta-Alanine can boost muscular endurance
Cons
Beta-Alanine also causes itchy & tingly skin
Contains 2 stimulants (likely to cause jittery side effects)
Missing key pre-workout nutrients (eg. Creatine Monohydrate)
Not good value for money
---
---

About The Product
LiquiCharge is a unique pre-workout supplement made by POWR3D, presented in 20 serving LiquiTubes that you add to water.
We like that this company have tried standing out from the crowd, but theres no evidence to suggest that this liquid form is any more beneficial than the tried-and-tested powder form pre-workouts are usually presented in.
It comes in a choice of 2 flavors, which in all fairness are very tasty - Blood Orange and Pomegranate Lemonade. POWR3D have done a great job as its one of the tastiest pre-workouts weve tried, but we have to point out that it contains artificial sweeteners which can cause some people headaches.
Anyway, well analyze LiquiCharges nutrient profile for you in the next section. But first, well tell you more about the company behind it.
Who are POWR3D? 
POWR3D are a USA-based supplements company that was founded in 2016.
We must say that we really like their website; although this is a new company, their site is much better than more established brands, which really sends a good message to potential customers.
They seem to specialize in creating liquid mix technologies, which will be the reason why theyve chosen to create LiquiCharge as their first product - we like that theyre sticking to their strengths here.
Their website gets the thumbs-up from us, so lets take a closer look at their pre-workout itself, LiquiCharge.
---
LiquiCharge Pre-Workout Ingredients Explained
LiquiCharge pre-workout contains 6 ingredients overall, so we like that POWR3D havent overloaded their first product with tons of ingredients here; we usually find that supplements containing over 10 nutrients are almost always under-dosed, and therefore ineffective.
However, from first glance, we can see that every ingredient has been added into a 2 proprietary blends (well expand on this below).
PROPRIETARY BLEND WARNING…
Proprietary blends are mixtures of numerous ingredients thatre only shown to you as 1 quantity. As you can see from the Muscle Endurance and Pump Complex on LiquiCharge pre-workouts ingredient list, the overall amount is 2,150mg - but youre not shown the dosages of each ingredient inside such as Theacrine.
This increases your risk of side effects, and also makes it uncertain whether this pre-workout will work. For this reason, we try to avoid any supplement that contains proprietary blends.
Interestingly, POWR3D have provided you with the exact dosage of Caffeine inside, so they must be aware of the risks of using proprietary blends. So its strange that they havent given the dosage of Theacrine (another stimulant) too.
Anyway, well expand on this and more, as we take you through each ingredient inside LiquiCharge pre-workout. By the end of this review, youll know how safe and effective POWR3Ds product really is.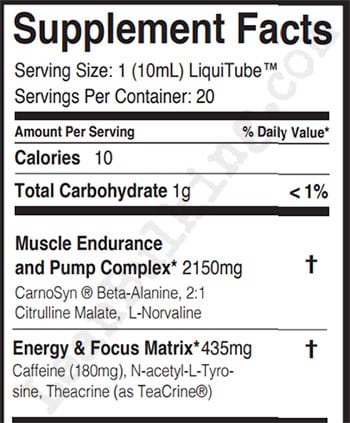 Heres Everything You Need To Know:
Beta-Alanine 
Beta-Alanine is quite a controversial addition to a pre-workout; this is because it enhances your muscular endurance, but also causes itchy & tingly skin.
The side effect is officially known as paresthesia, and we prefer to avoid it personally, as we find it distracting when trying to lift weights.
However, we acknowledge that not everyone finds Beta-Alanines side effect as bad, so well leave this up to personal preference.
Ultimately, we prefer consuming Creatine Monohydrate instead, as it offers the same benefit without causing any side effects.
Citrulline Malate 
Citrulline Malate is a key addition to any pre-workout, as its able to provide cell-splitting muscle pumps while you lift weights - when dosed correctly.
Studies have shown the optimal dosage of Citrulline Malate to be 6,000mg per serving; unfortunately, its impossible for there to be an effective dosage in LiquiCharge pre-workout, due to it being contained in a proprietary blend that only adds up to 2,150mg overall.
For this reason, Citrulline Malate has been seriously under-dosed in LiquiCharge pre-workout (and not likely to deliver and its full benefits).
L-Norvaline 
L-Norvaline is an amino acid thats believed to be able to raise your nitric oxide levels in a similar way to Citrulline Malate.
However, there hasnt been many studies conducted on L-Norvaline to prove that it works, making it an unreliable ingredient in LiquiCharge pre-workout.
We would have preferred POWR3D to have removed this ingredient and simply increased the dosage of Citrulline Malate in their pre-workout here.
---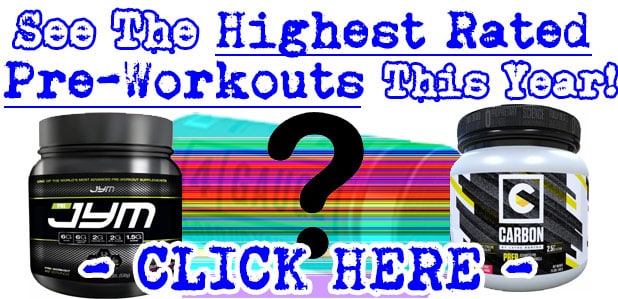 ---
Caffeine 
This is the only ingredient that POWR3D has given you the exact dosage of in LiquiCharge pre-workout. So we believe that they must know about the risks of adding nutrients into proprietary blends (consuming unknown quantities of stimulants inevitably leads to jittery side effects).
Now, the 180mg dosage of Caffeine here is a good dosage; we always advise you to choose pre-workouts containing less than 200mg Caffeine per serving, to stay safe and avoid side effects.
However, the problem is that POWR3D has added another stimulant (Theacrine) along with Caffeine.
Theacrine 
As we mentioned, if POWER3D hadnt have added Theacrine here, their dosage of Caffeine would have been safe and sensible.
However, the big problem is that Theacrine has been added into a proprietary blend without the exact dosage being provided to you; this puts you at serious risk from suffering jittery side effects, which isnt ideal.
Personally, we like to avoid side effects when taking pre-workouts, as it can force you to go home from the gym early.
For this reason, we advise you to try and avoid pre-workouts containing more than 1 stimulant - especially if theyre added in unknown quantities in proprietary blends.
L-Tyrosine 
L-Tyrosine is a brain booster ingredient thats known to improve your cognition. We consider it to be a key addition to nootropic supplements, but its not as necessary in pre-workouts.
Why? Because Caffeine delivers enough of a boost in your focus to improve your gym sessions.
Ultimately, you dont need an ingredient solely aimed at improving your cognition…unless you often forget your wifes shopping list on the way back from your workout…
But L-Tyrosine is by no means a bad addition to LiquiCharge. Its a good bonus ingredient to have and doesnt cause any side effects.
---

---
Side Effects 
We mentioned that a few ingredients in LiquiCharge pre-workout can cause side effects.
Well, just in case you skimmed past the previous section, well give you a quick summary; Beta-Alanine is known for causing itchy & tingly skin, and the fact that LiquiCharge pre-workout contains 2 stimulants in proprietary blends seriously increases your risk from suffering jittery side effects.
For this reason, we advise you to try and avoid supplements containing more than 1 stimulant - especially in proprietary blends.
Heres the potential side effects from taking LiquiCharge pre-workout:
Itchy & Tingly Skin (Beta-Alanine)
Jitters (2 stimulants in proprietary blend)
Energy Crashes (2 stimulants in proprietary blend)
---
LiquiCharge Pre-Workout Review Conclusion
We probably sound like weve been quite harsh in this review, but we have to give you the stone-cold truth.
But we believe that POWR3D has a lot of potential to create some great products in the future. LiquiCharge pre-workout being their first product, they were always going to make a few mistakes - we werent great at the start of our careers either!
So were excited to see more products from POWR3D in the future. But for now, LiquiCharge simply cant compete with the highest rated pre-workouts on the market, although the 3 star rating weve given it is still respectable.
POWR3D LiquiCharge Pre-Workout Review
Bottom Line
LiquiCharge is a great first attempt at a pre-workout, and its tasty too.
But the 2 stimulants in proprietary blend make it likely that youll suffer jittery side effects. For this reason, we dont believe it can compete with the best pre-workouts available.
See The Best Pre-Workouts This Year!
Heres the best natural pre-workouts on the market for:
Energy Boosts 
Enhanced Strength & Endurance 
Increased Focus
Skin-Splitting Muscle Pumps