Pro's
Great dosage of D-Aspartic Acid
Fenugreek Seed Extract shown to raise testosterone levels
Con's
Tribulus hasnt shown to raise testosterone levels in any studies
Tribulus can cause side effects (see side effects section for more info)
250mg of DIM could actually increase estrogen levels in men
Vitamin D serioulsy under-dosed at 1,000mg (optimal dosages start at 3,332IU)
---
---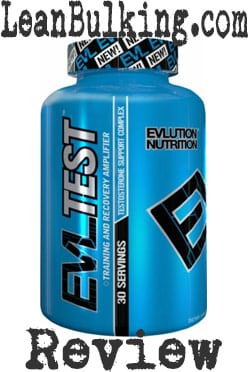 About The Product
EVLTest is a testosterone booster made by EVLution Nutrition. It costs $34.99 for 30 serving containers, with a serving size of 4 capsules per day.
This is a great number of servings - you want to spread your dosages throughout the day, so youre body is always topped up with key testosterone boosting ingredients. Weve reviewed some of EVLutrion Nutritions products before (including their fat burner Lean Mode) - so were excited to see whether EVLTest can place higher in our rankings.
Who are EVLution Nutrition?
EVLution Nutrition is a supplements company based in Florida, USA. They market numerous products, from pre-workouts to fat burners, and obviously this testosterone booster.
However, there wasnt much more information available about them on their website. We only look through what a normal customer would (meaning we dont spend more than 10 minutes researching a company for info), so cut to the important bit and see whether EVLTEST can make it onto our top 3 list.
To do this, well be taking a close look at what ingredients are inside EVLTest in the section below.
---
EVLTEST Ingredients Explained
EVLTEST contains 5 main ingredients, and we have very mixed opinions about them. Simply put, some are great - but others can cause unwanted side effects thatll put you further away from your fitness goals.
The Good
Vitamin D
Fenugreek Seed Extract
Anyway, after that quick overview, well analyze EVLTest more extensively - by taking you through each ingredient. Ultimately, this will reveal how safe and effective this T-Booster really is.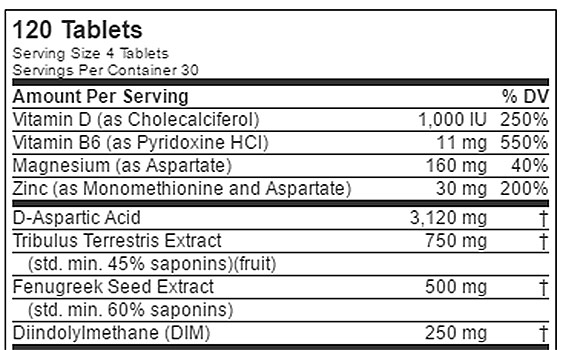 Heres Everything You Need To Know:
Vitamin D 
Technically a hormone, Vitamin D3 can help raise your testosterone levels, as its proven to work in numerous studies. However, remember that only Vitamin D3 is the best form of Vitamin D.
EVLution hasnt shown us which form theyve added into EVLTEST, so were assuming its Vitamin D2 (which is the synthetic form that isnt as beneficial). Not only that, its been seriously under-dosed in this product.
You need at least 3,332IU servings to experience its benefit. As this ingredient only contains 1,000mg, its not likely to work.
D-Aspartic Acid 
D-Aspartic Acid is another of our favorite testosterone boosting ingredients for one reason - it works.
EVLution has done well by adding an almost optimal dosage in EVLTEST (optimal dosages are between 2,000-3,000mg). Its slightly over this dosage, but 120mg extra wont cause any unwanted side effects.
---

---
Tribulus Terrestris Extract 
This is a controversial ingredient to add into a T-Booster. Basically, its not shown to have any effect on your testosterone levels.
Not only that, its been reported to increase your prostate weight, which can lead to serious male health issues. For this reason, we advise that you stay away from products containing Tribulus Terrestris.
Fenugreek Seed Extract
Fenugreek has been used for decades in ayurveda (traditional Indian medicine) to boost libido and testosterone levels. And for good reason, as studies have proven that it works.
Fenugreek is effective in dosages as low as 50mg, so there wasnt any need to add in 500mg in EVLTEST - but its not a bad thing either. We just wish that EVLution Nutrition decreased the dosage of Fenugreek, and increase the Vitamin D serving.
Diindolymethane 
Also known as DIM, this has shown to reduce estrogen levels. However, its not needed; no natural testosterone booster is strong enough to boost your T-Levels so much that it begins increasing your estrogen levels - only steroids are.
Not only that, too much DIM can cause the opposite effect and increase your estrogen levels. Studies have shown that the optimal dosage of DIM is 100mg.
However, theres 250mg of DIM here, so you might experience its unwanted side effect.
---
Most Effective Test Booster Ingredients
As this EVLTest review is quite negative, we dont want to seem like were criticizing it without any evidence to back up our claims. For this reason, were giving you a quick overview of what you should be looking for on your search for the best testosterone booster.
Simply put, the best T-Boosters deliver these benefits:
Increased Testosterone Production
Enhanced Libido
Pack on Lean Muscle Faster
We strongly believe that these are the 3 key benefits of purchasing taking these supplements - why else would you buy one?
Personally, these are the main reasons why we tried numerous testosterone boosters - before finally finding our top 3 favorite products. The reason why it took almost 20 years to find a test booster that actually works, is because theres so much sh*t on the market - it was like trying to find the best grain of sand in a beach.
Anyway, especially after starting to work in the supplements industry, we noticed that there were key ingredients to look for in these supplements…
Here are the ingredients proven to raise testosterone levels:
Vitamin D3 - This is technically a hormone thats proven to be safe and reliable. This is how good it is: Doctors believe if youre going to choose just one ingredient to benefit your overall health, then Vitamin D3 is the best option. Whats even better, is that its shown to significantly increase testosterone levels in numerous studies. One thing to remember; make sure to consume the optimal dosage (at least 3,332IU per serving).
D-Aspartic Acid - DAA  is very important, as it helps to regulate your testosterone levels. For this reason, giving your body a helping hand by supplementing between 2,000mg-3,000mg can really give you that kick of testosterone that you need as you get older. DAA is one of our favorite ingredients, and deserves a place on this list.
Fenugreek - This herb has been used in ayurveda (traditional Indian) medicine for centuries. So what does it do? Well, its proven to boost libido and testosterone levels in numerous studies. The best thing about Fenugreek, is that its effective in dosages as small as 50mg (meaning Frenugreeks a reliable addition to any T-Booster that you dont need in huge amounts).
Asian Red Panax Ginseng - This is not often seen on ingredient lists of testosterone boosters - its not well known, and we know that companies prefer to add more reputable ingredients such as Tribulus Terrestris (but Tribulus Terestris has shown to be ineffective in numerous studies). This is where Asian Red Panax Ginseng comes in; its proven to have a positive effect on your T-Levels, and even your general health (making it an all-round great ingredient).
---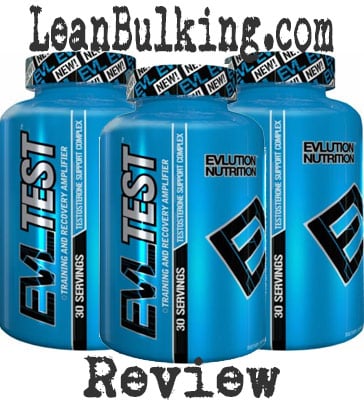 ---
Side Effects 
There are 2 ingredients in EVLTEST that can cause side effects - Tribulus Terrestris and DIM. However, we prefer products that dont cause any side effects, so we cant recommend that you consume supplements containing these 2 ingredients.
Heres the potential side effects from taking EVLTEST: 
Increased Prostate Weight (Tribulus Terrestris)
Raised Estrogen Levels (DIM)
---
EVLTEST Review Conclusion
Now you know why we have mixed opinions about EVLTEST by EVLution Nutrition. It contains some great ingredients in good dosages (especially D-Aspartic Acid), but the addition of 2 ingredients that can cause side effects ruins this product.
If youre spending your hard-earned cash on gym supplements, you shouldnt be at risk of experiencing unwanted side effects. For this reason, we only recommend that you try the best products on the market.
Bottom Line: Although EVLTEST isnt the best testosterone booster weve tried, its better than many on the market.
Check Out The Best Test Boosters This Year!
Heres the best natural testosterone boosters on the market for:
Faster Muscle Gains
Quicker Recovery Time
Decreased Belly Fat
Enhanced Energy & Sex Drive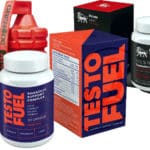 Click Here to See the Full List!