(2.5/5)
Pros
Maca can boost libido
Fenugreek Seed Extract is a key test boosting nutrient
Zinc supports healthy testosterone levels
Cons
Tribulus Terrestris can cause increased prostate weight
Saw Palmetto can cause side effects
Missing key test boosting nutrients (eg. Vitamin D3)
---
---

About The Product
Testo HT is a testosterone booster by Eiyolab. It costs €25.90 on Toutelanutrition.com for 30 serving containers, with a serving size of 3 capsules per day.
This is a good serving size; studies have shown that 3-4 daily capsules is optimal for keeping your body topped throughout your day.
Anyway, we'll analyze Testo HT's nutrient profile for you in the next section. But first, we'll try and find out more about the company behind it.
Who are Eiyolab? 
Eiyolab are a supplements company that appears to be based in France, where they have become a popular brand. It markets a variety of supplements, from fat burners to protein powders.
In all honesty, we couldn't find much more information about them (such as the year they were founded). But 1 thing we do know is which ingredients are inside Testo HT – so let's take a look…
---
Testo HT Ingredients Explained
Our first impressions of Testo HT are pretty good; it doesn't contain any proprietary blends, meaning you can see the exact dosage of each ingredient.
However, we can also see that Testo HT is missing some key testosterone boosting nutrients such as Vitamin D3 (which has proven to raise your T levels effectively).
Not only that, there's one problem we can see straight away; this T-Booster contains Tribulus Terrestris, which has been reported to increase the weight of your prostate, which can cause serious male health issues in the future.
Anyway, we'll expand on everything as we take you through each ingredient inside Testo HT. By the end of this review, you'll know how safe and effective this product really is.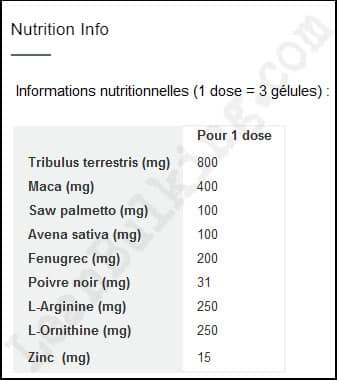 Here's Everything You Need To Know:
Tribulus Terrestris 
We just mentioned that Tribulus Terrestris can cause an increase in your prostate weight. This is a side effect you should avoid at all costs, as it can lead to serious male health issues in the future.
But the worst part is that Tribulus Terrestris hasn't shown to have any effect on your testosterone levels. The only thing it's able to do, is slightly raise your sex drive (but it's not worth it, due to the potential side effect this ingredient can cause).
Maca 
In case you're unaware, this is a vegetable that belongs to the brocolli family, commonly grown in Peru.
We believe that Eiyolab has added this nutrient into Testo HT to try and counteract the side effect of Tribulus Terrestris; Maca might be able to reduce the increase in prostate weight, but it's not shown to be 100% reliable at delivering this benefit.
But the good news is that Maca has shown to raise your libido, which is a useful benefit to have in a testosterone booster.
Saw Palmetto 
Also known as Serenoa Repens, this is another ingredient that's believed to suppress the side effect of Tribulus Terrestris (prostate growth).
However, Saw Palmetto hasn't shown to raise your testosterone levels in many studies – making it an unreliable ingredient in Testo HT.
Also, we don't like that Eiyolab have added nutrients specifically to counteract Tribulus Terrestris' side effect; it doesn't even raise your testosterone levels, so they should have simply left it out of Testo HT completely.
Avena Sativa 
If you're thinking that this some kind of complex ingredient, then you'll probably laugh when you hear what it is – oats.
Yes, it's the same oats that is used in porridge. It might be a healthy source of carbohydrate, but it's not going to raise your testosterone levels.
Ultimately, we would have rather Eiyolab added a tried-and-tested nutrient at raising your testosterone, such as Vitamin D3.
---

---
Fenugreek Seed Extract 
Finally, this is a key testosterone boosting ingredient in Testo HT.
Fenugreek has proven to raise your test levels and libido, making it a perfect addition to any T-Booster supplement. It's also one of the most efficient nutrients, as it's shown to work in dosages as little as 50mg per serving.
As Testo HT contains 200mg, it's likely to work here. Good job by Eiyolab.
Poivre Noir 
This is simply Black Pepper Extract (the same stuff you sprinkle on your food to make it taste better).
However, it's more useful than you think; Black Pepper Extract has shown to improve your digestion and the absorption rate of supplements its added to.
But the problem is, it doesn't have any effect on your testosterone levels. So while it can be a great 'bonus' to have in supplements, it's not really needed either.
L-Arginine 
We don't understand why companies add L-Arginine in their testosterone booster supplements; it has no effect on your test levels, and only a minor effect on your blood flow.
Basically, we believe that companies add L-Arginine in an attempt to strengthen your erections. But it's not shown to be reliable at delivering this benefit, due to L-Arginine having a poor absorption rate when orally supplemented.
For this reason, we consider this to be mostly an ineffective addition to Testo HT.
L-Ornithine 
L-Ornithine is another ingredient that's added to supplements in an attempt to improve your blood flow. However, it's not proven to deliver this benefit either.
If Eiyolab wanted to improve your blood flow, then they should have added Citrulline Malate.
But in any case, this shouldn't be a key benefit you look for when choosing a testosterone booster. The main focus should be on you raising your testosterone levels.
Zinc 
Zinc is a very useful ingredient in any testosterone booster, as it's proven to help support peak testosterone levels in countless studies.
In fact, it's an essential mineral that is commonly known to be beneficial for many things (general health, less fatigue, test levels).
The only issue is that you shouldn't consume more than 40mg per day, as this is the TUL (tolerable upper limit). But this isn't a problem in Testo HT, as it only contains 15mg per serving.
Ultimately, this serving size is enough for you to benefit from, while allowing you to consume other foods containing zinc. Good job by Eiyolab here.
---
Most Effective Test Booster Ingredients
As this TestoTek review is quite negative, we don't want to seem like we're criticizing it without any evidence to back up our claims. For this reason, we're giving you a quick overview of what you should be looking for on your search for the best testosterone booster.
Simply put, the best T-Boosters deliver these benefits:
Increased Testosterone Production
Enhanced Libido
Pack on Lean Muscle Faster
We strongly believe that these are the 3 key benefits of purchasing taking these supplements – why else would you buy one?
Personally, these are the main reasons why we tried numerous testosterone boosters – before finally finding our top 3 favorite products. The reason why it took almost 20 years to find a test booster that actually works, is because there's so much sh*t on the market – it was like trying to find the best grain of sand in a beach.
Anyway, especially after starting to work in the supplements industry, we noticed that there were key ingredients to look for in these supplements…
Here are the ingredients proven to raise testosterone levels:
Vitamin D3 – This is technically a hormone that's proven to be safe and reliable. This is how good it is: Doctors believe if you're going to choose just one ingredient to benefit your overall health, then Vitamin D3 is the best option. What's even better, is that it's shown to significantly increase testosterone levels in numerous studies. One thing to remember; make sure to consume the optimal dosage (at least 3,332IU per serving).
D-Aspartic Acid – DAA  is very important, as it helps to regulate your testosterone levels. For this reason, giving your body a helping hand by supplementing between 2,000mg-3,000mg can really give you that 'kick' of testosterone that you need as you get older. DAA is one of our favorite ingredients, and deserves a place on this list.
Fenugreek – This herb has been used in ayurveda (traditional Indian) medicine for centuries. So what does it do? Well, it's proven to boost libido and testosterone levels in numerous studies. The best thing about Fenugreek, is that it's effective in dosages as small as 50mg (meaning Frenugreek's a reliable addition to any T-Booster that you don't need in huge amounts).
Asian Red Panax Ginseng – This is not often seen on ingredient lists of testosterone boosters – it's not well known, and we know that companies prefer to add more 'reputable' ingredients such as Tribulus Terrestris (but Tribulus Terestris has shown to be ineffective in numerous studies). This is where Asian Red Panax Ginseng comes in; it's proven to have a positive effect on your T-Levels, and even your general health (making it an all-round great ingredient).
---

---
Side Effects
The only side effect you need to be concerned about with Testo HT is possible prostate enlargement – due to it containing Tribulus Terrestris.
Eiyolab have added Maca and Saw Palmetto to try and counteract this side effect. But Saw Palmetto has been reported to cause numerous side effects itself.
Here's the potential side effects from taking Testo HT: 
Enlarged prostate (Tribulus Terrestris)
Nausea (Saw Palmetto)
Headache (Saw Palmetto)
Diarrhea (Saw Palmetto)
---
Testo HT Review Conclusion
Eiyolab hasn't done a bad job with Testo HT here. It's likely to boost your libido, which is a great benefit from taking a testosterone booster.
However, Eiyolab seem to have forgotten to include ingredients that are proven to actually raise your testosterone levels.
Ultimately, a raise in test levels will result in most key benefits (such as raised libido, strength, mood and confidence). For this reason, we don't believe Testo HT can compete with other products containing optimal amounts of key ingredients such as Vitamin D3.
[wp-review]
See The Best Test Boosters This Year!
Here's the best natural testosterone boosters on the market for:
Faster Muscle Gains
Quicker Recovery Time
Decreased Belly Fat
Enhanced Energy & Sex Drive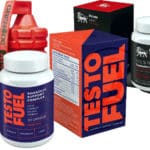 Click Here to See the Full List!