Pros
D-Aspartic Acid proven to elevate test levels
Zinc supports healthy testosterone levels
Cons
Missing key T-Boosting nutrients (eg. Vitamin D3)
Not good value for money
---
---

About The Product
Insane Gainz is a testosterone booster supplement by Insane Labz. It costs $69.99 for 30 serving containers, with a serving size for 5 capsules per day.
Now, we usually complain that supplements dont offer enough daily servings. But 5 is a bit over-the-top; the optimal serving size is 3-4 capsules per day, so this is all you need.
Ultimately, wed probably forget a serving trying to take 5 per day. However, this is still better than having only 1-2 per day.
Anyway, well analyze Insane Gainz nutrient profile for you in the next section. But first, well tell you more about the company behind it.
Who are Insane Gainz? 
Insane Gainz are quickly becoming a popular supplements company with a rising reputation. They make a range of products, from pre-workouts to fat burners.
Their about us page didnt provide much useful information, such as when they were founded. But none of this affects the quality of their product.
Anyway, youre here to learn about Insane Gainz, so lets see which ingredients are inside below…
---
Insane Gainz Ingredients Explained
Insane Gainz only contains 3 ingredients, so were surprised that Insane Labz have priced this at $69.99. Especially as we can only see 1 key testosterone boosting nutrient inside (D-Aspartic Acid).
Not only that, even though theres only 3 ingredients, Insane Labz have added them into a proprietary blend (well expand on this below).
Anyway, now that know why we dont like proprietary blends. Well take you through each ingredient inside Insane Gainz, so you can see how safe and effective this test booster really is.
By the end of this review, youll know whether Insane Gainz is worth trying out.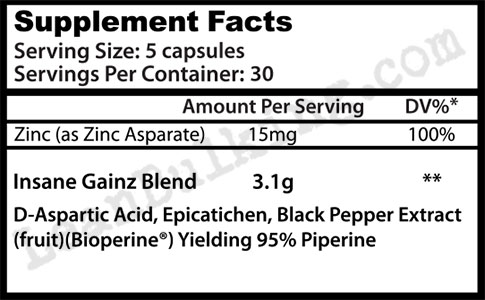 Heres Everything You Need To Know:
D-Aspartic Acid 
Insane Gainz completely relies on D-Aspartic Acid. This test boosters main selling point is that DAA has proven to raise your testosterone levels by as much as 42% over 12 days.
However, this benefit is experienced with any product containing an optimal dosage of D-Aspartic Acid.
But thats the problem; as its part of a proprietary blend, you dont actually know the exact dosage inside Insane Gainz (meaning you dont know whether its going to work).
Ultimately, this is a great example of why proprietary blends are one of the biggest gimmicks in the supplements industry.
Epicatechin
Epicatechin is a molecule found in chocolate, believed to be a myostatin inhibitor (which would promote muscle growth).
However, there havent been enough studies to prove that Epicatechin actually works. For this reason, we have to consider this to be an unreliable ingredient in Insane Gainz.
Black Pepper Extract 
If we were only choosing to add 3 ingredients to a testosterone booster supplement, we wouldnt have chosen Black Pepper Extract to be one of them.
Dont get us wrong, this isnt a bad ingredient; its proven to improve your digestion and the absorption rate of nutrients.
However, its certainly not a key testosterone boosting ingredient in Insane Gainz.
---

---
---

---
Side Effects
The good news is that Insane Gainz doesnt contain any ingredients that are capable of causing any side effects.
This is always good news, as you dont want to be at risk from side effects when paying good money for gym supplements.
---
Insane Gainz Review Conclusion
After analyzing this testosterone booster, we dont understand how it costs $69.99 for a product that only contains 3 ingredients.
You can buy the highest rated test boosters on the market for a similar price, but these contain optimal dosages of 7-8 key testosterone boosting nutrients (so theyre much better value for money).
For this reason, we believe that Insane Gainz is bad value for money.