Pros
6g dosage of Citrulline Malate
A sensible amount of Caffeine per serving
L-Tyrosine is shown to boost focus
Beta-Alanine can enhance your muscular endurance
Cons
Beta-Alanine is also known for causing itchy & tingly skin
Bitter Orange Extract shown to cause numerous side effects
More than 1 stimulant increases risks of jittery side effects
Missing key-pre-workout ingredients (eg. Creatine Monohydrate)
---
---

About The Product
Blood and Guts is a pre-workout supplement made by DY (Dorian Yates) Nutrition, released in 2018. It comes in 3 different flavors – Cola, Blueberry, and Pear Kiwi, so it sounds like a pretty tasty product!
However, what really matters are whether the ingredients inside Blood and Guts are safe and effective; this is something that we'll be taking a look at in the next section.
But first, we'll tell you more about the company behind it.
Who is DY Nutrition? 
If you know about bodybuilding, then you'll know about Dorian Yates. He won the Mr. Olympia competition a total of 6 times, consecutively, so he's definitely a legend of the industry.
In fact, we're big fans of the icon born in the UK. Although he dominated the most prestigious competition in bodybuilding from 1992-1997, Dorian was always known for his great personality and humility. So he's exactly the type of figure you want promoting the great sport.
DY Nutrition is his supplements company. From what we've seen from it so far, it looks to be based in the USA, although we're not 100% sure as this information isn't disclosed on DY Nutrition's website.
However, you're here to learn more about DY Nutrition's pre-workout supplement, Blood and Guts. So let's see which ingredients have been added to this product below…
---
Blood and Guts Ingredients Explained
Blood and Guts pre-workout contains 9 ingredients overall; this is a good number to have in 1 supplement, as we've found that those containing more than 10 nutrients are often under-dosed.
We wouldn't expect any less from a company led by Mr. Olympia and bodybuilding legend. But Blood and Guts has an optimal 6,000mg Citrulline Malate dosage added, as well as a sensible amount of Caffeine Anhydrous to keep you safe from jitters.
From the first glance, the only thing that lets Blood and Guts down is that it contains Bitter Orange Extract and 2 stimulants, which increase your risk of side effects (in our honest opinion).
Anyway, we'll expand on this as we take you through each ingredient in this pre-workout supplement. By the end of this review, you'll have a good idea of how safe and effective Blood and Guts really is.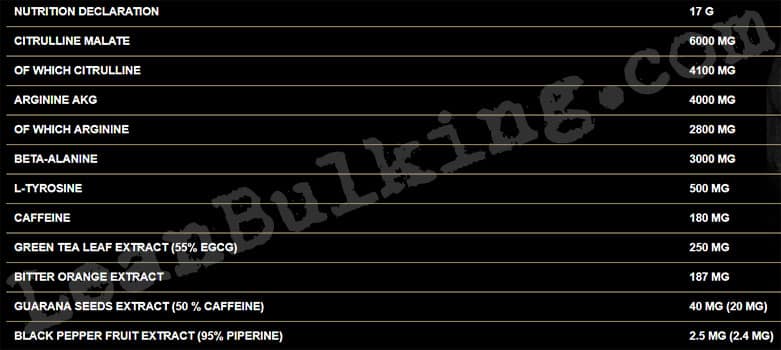 Here's Everything You Need To Know:
Citrulline Malate 
It was Arnold Schwarzenegger who famously quoted that experiencing muscle pumps in the gym was one of the best feelings in the world. We agree, and it looks like Dorian Yates does too, as Citrulline Malate improves your pumps.
How does it work? Well, Citrulline Malate converts to L-Arginine in your kidneys after digestion; this is beneficial, as L-Arginine has a poor absorption rate when orally supplemented directly.
Ultimately, once L-Arginine is in your system, it's able to help pump more blood and oxygen into your muscles. Resulting in better muscle pumps in the gym, and also reduced muscle fatigue and damage too.
For this reason, Citrulline Malate is a key pre-workout ingredient that we always look out for in these supplements.
Arginine AKG 
The official name for Arginine AKG is 'Arginine Alpha-Ketoglutarate'. It's basically extracted from L-Arginine, so it's believed to have a positive effect on blood flow and muscle pumps.
However, as we mentioned just before, L-Arginine has a poor absorption rate when orally consumed. So this is also an issue with Arginine AKG too.
Not only that, there hasn't been enough studies conducted on Arginine AKG to make it a reliable nutrient anyway. So in conclusion, we consider this to be an unreliable addition to Blood and Guts here.
The good news is that DY Nutrition added an optimal dosage of Citrulline Malate, so you should still feel your arms inflating while curling weights in the gym.
Beta-Alanine 
We have very mixed feelings about Beta-Alanine, because it both works and causes a side effect.
What does it do? Well, Beta-Alanine has shown to be capable of enhancing your muscular endurance. However, it's also very well-known for causing itchy & tingly skin (a side effect officially known as 'paresthesia').
The good news is that paresthesia isn't life-threatening and doesn't cause any long-term damage. But for us personally, we find it too distracting while we're trying to focus on smashing a gym session.
For this reason, we do prefer it when companies don't add Beta-Alanine to their pre-workouts; we prefer Creatine Monohydrate, as everyone knows that it works to improve your strength & endurance, and doesn't cause any side effects.
However, for those that don't mind being a bit itchy & tingly in the gym, Beta-Alanine is a beneficial addition to Blood and Guts here.
L-Tyrosine 
L-Tyrosine is a 'brain booster' ingredient that's more commonly found in nootropic supplements. But it's also beneficial in pre-workouts, as it's able to improve your focus in the gym – having a direct effect on mind-muscle-connection.
As a result, we consider L-Tyrosine to be a very useful addition to any pre-workout supplement that it's added to.
---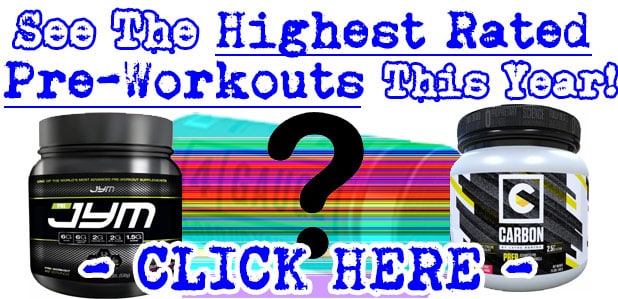 ---
Caffeine Anhydrous 
When it comes to raising your energy levels and giving you that 'kick' up the bottom you need to smash your session, there's nothing better than Caffeine Anhydrous.
You can't argue against it. Everyone knows that Caffeine works or many wouldn't find drinking coffee or tea as beneficial at keeping them awake at their office desk!
However, you'll know that drinking too much coffee can lead to jittery side effects. Well, this is exactly what happens when you consume large dosages of Caffeine Anhydrous.
How much is an overload? We believe that there's simply no need for companies to add more than 200mg Caffeine Anhydrous to their supplements.
DY Nutrition has done well very here, as they've included a sensible 180mg dosage in Blood and Guts; this will ensure you feel a 'kick' in the gym, without worrying about suffering from jitters or energy crashes.
The bad news is that Blood and Guts contains other stimulants (Bitter Orange Extract and Guarana Seed Extract) too, which we'll expand on a little further down.
Green Tea Leaf Extract 
We're not really sure why DY Nutrition has added Green Tea Extract into their pre-workout supplement here.
Why? Because Green Tea Extract is known for it's fat burning properties, due to containing high amounts of catechins.
However, it's not going to have much effect on the performance on your gym session when taken 20-30 minutes before. So it's much more beneficial when added to fat burner supplements.
Ultimately, Green Tea Extract isn't a necessary addition to Blood and Guts. But in fairness, there are no negatives to having this nutrient here either.
Bitter Orange Extract 
Like with Green Tea Extract, Bitter Orange Extract isn't necessary in Blood and Guts either; this is because Bitter Orange Extract is also known for it's fat burning ability.
But unlike Green Tea Extract, there are negatives to having Bitter Orange Extract in Blood and Guts pre-workout.
Why? Well, Bitter Orange Extract has become known for causing side effects over the years. So we're glad that more companies have left this nutrient out of their supplements recently.
So we are disappointed that DY Nutrition has added this ingredient into Blood and Guts.
Not only that, as Bitter Orange Extract is a stimulant, it also increases your risk of suffering from jitters and energy crashes (as there's already a 180mg dosage of Caffeine Anhydrous in Blood and Guts).
Gurana Seed Extract
Guarana Seed Extract is a natural source of Caffeine, but the bad news is that there's already a 180mg dosage of Caffeine Anhydrous, as well as another stimulant, Bitter Orange Extract too.
Ultimately, the addition of Guarana Seed Extract only increases your risk of jitters and energy crashes. So we would have preferred it if DY Nutrition hadn't added Guarana Seed Extract to Blood and Guts here.
Black Pepper Fruit Extract 
You might be wondering why DY Nutrition has added Black Pepper Fruit Extract to their pre-workout supplement.
Well, this is because this nutrient contains a concentrated amount of piperine; this molecule has shown to be capable of enhancing the absorption rates of other ingredients – and supplements as a whole.
For this reason, while Black Pepper Fruit Extract isn't going to be a key addition to any supplement, it's certainly a useful 'bonus'.
---

---
Side Effects
We have 2 concerns with Blood and Guts; it contains more than 1 stimulant and Bitter Orange Extract has become known for causing numerous side effects.
Ultimately, we always prefer pre-workouts containing any 1 stimulant, as this keeps you safe from jittery side effects. And Bitter Orange Extract is more useful at promoting fat loss anyway (not that we recommend you to use this ingredient for that reason anyway).
Here are the potential side effects of taking Blood and Guts Pre-Workout: 
Jitters (More than 1 stimulant)
Energy Crashes (More than 1 stimulant)
Nausea (Bitter Orange Extract)
Anxiety (Bitter Orange Extract)
High Blood Pressure (Bitter Orange Extract)
---
Blood and Guts Review Conclusion
As we mentioned at the start of this review, we have a great deal of respect for Dorian Yates. He achieved incredible things during his career, as is still a big name in the industry as a result – winning 6 Mr. Olympia shows in-a-row is no easy task.
You can see that Dorian has used his expertise while formulating this pre-workout, Blood and Guts; the optimal dosage of Citrulline Malate is quite rare to see these days, so this is something that helps to set Blood and Guts apart!
However, the small mistakes (in our honest opinion), such as the addition of Bitter Orange Extract and including more than 1 stimulant are what lets this down slightly.
[wp-review]
See The Best Pre-Workouts This Year!
Here are the best natural pre-workouts on the market for:
Energy Boosts 
Enhanced Strength & Endurance 
Increased Focus
Skin-Splitting Muscle Pumps