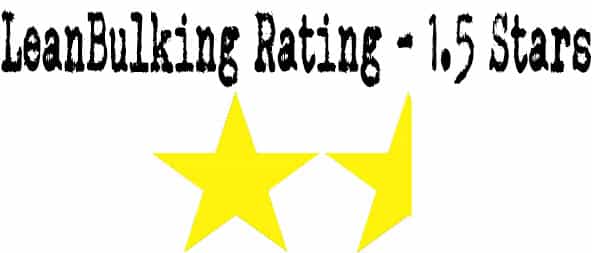 Pro's
CLA might help preserve muscle during a cut
L-Carnitine can reduce muscle fatigue
Con's
No key fat burning ingredients (eg. Green Tea Extract or Glucomannan)
None of the nutrients proven to promote fat loss
Bad value for money
---
---

About The Product
SuperHD Razor is a fat burner supplement made by Cellucor, priced at $59.99 for 56 servings. It comes with a daily serving size of 2 capsulers, but we prefer 3-4 capsule servings (as studies have shown this is more beneficial for fat loss).
Were always interested in products by big brands, and Cellucor is no exception. So well tell you more about this company, before analyzing SuperHD Razors nutrient profile for you.
Who are Cellucor?
We had to look on their wikipedia page, as we couldnt find an about us section on Cellucors website. Basically, we found that this company are based in Texas (USA), and are a brand owned by a bigger company called Nutrabolt.
Weve reviewed a couple other Cellucor products, but youre here to learn more about their fat burner, SuperHD Razor. So lets get to the main course below…
---
SuperHD Razor Ingredients Explained
SuperHD Razor only contains 4 ingredients in total; this isnt always a bad thing, but we can see that Cellucor havent added any key fat burning nutrients, so this is a problem.
But on a positive note, CLA has shown promising signs of helping you preserve muscle mass while youre trying to lose body fat. And L-Carnitine can also slightly induce fat loss, while preserving your muscle mass (but as it has almost no effect on fat loss, we consider it as a key pre-workout ingredient).
Anyway, well take you through each ingredient inside SuperHD Razor, so you can see how good Cellucors fat burner really is.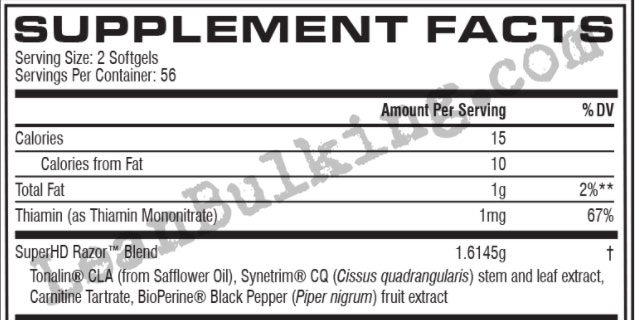 Heres Everything You Need To Know:
CLA 
Also known as Conjugated Linoleic Acid, this is a fatty acid thats believed to promote fat loss. However, there havent been any human studies that have proven whether it actually works (making it an unreliable ingredient).
But there is some good news; CLA has shown promising signs of helping you maintain muscle mass while you cut calories to lose body fat.
So while CLA wont exactly help you shred fat, itll help you slightly preserve muscle during your fat burning journey. Saying that, if you keep an eye on your protein intake and dont cut your calories by more than 500kcal in a calorie deficit, then you wont really have a problem maintaining muscle mass anyway.
For this reason, we dont consider CLA to be a key fat burner ingredient.
Synetrim CQ 
This is a patented ingredient thats believed to keep your estrogen levels low. However, we dont really understand why Cellucor has added this into their fat burner supplement (as it wont help you lose body fat).
After doing some more research on Synetrim CQ, we found that this ingredient is also believed to be a carb blocker, which would be useful in reducing insulin spikes after you eat refined carbohydrates such as white pasta.
But the worst thing is, Synetrim CQ hasnt been proven to work in any studies - meaning its not even guaranteed to work. For this reason, we consider Synetrim CQ to be an unreliable ingredient in SuperHD Razor fat burner by Cellucor.
L-Carnitine Titrate 
There are many different forms of L-Carnitine, but this is the first time weve heard of titrate. We actually believe that Cellucor have made a spelling error and this is supposed to read Tartrate…
Anyway, if it is Tartrate, then its shown to help reduce muscle fatigue and improve your focus in the gym. However, there havent been many studies that show it can promote fat loss.
For this reason, we believe its a key pre-workout ingredient, but its not something wed choose to add into the best fat burners on the market.
Bioperine 
This is a patented form of Black Pepper Extract. We know what youre thinking, and yes, someone has actually paid to patent black pepper…
Well just be using the stuff from our dinner table, but its actually more beneficial than you think; Black Pepper Extract has proven to boost your digestion and the absorption rate of supplements that its added to.
For this reason, while its never a key ingredient in any supplement, it can be a useful addition.
---

---
Side Effects
The good thing about SuperHD Razor, is that this fat burner doesnt contain any ingredients that have been reported to cause any side effects. For this reason, we can quite confidently say that SuperHD Razor wont cause any side effects.
However, that doesnt mean its worth trying either…
---
SuperHD Razor Review Conclusion
Ultimately, SuperHD Razor is a fat burner that doesnt contain any key fat burning ingredients; for a company as reputable as Cellucor, this is disappointing as we expected them to have done their research and added proven, effective nutrients.
This seems be a problem with many companies recently; theyve been creating fat burner supplements containing fatty acids such as CLA to try and fool you into thinking its the next big thing. However, its important to know that studies have shown thermogenic ingredients such as Green Tea Extract and Cayenne Pepper Powder are the most effective, natural nutrients to help you shred body fat.
For this reason, we cant recommend that you try SuperHD Razor.
Cellucor SuperHD Razor Review
Summary
SuperHD Razor doesnt contain any tried-and-tested nutrients to actually help you lose body fat.
Its not good value for money, and it might not work for you either, in our honest opinion.
We believe that you should save your cash and look for a better alternative (all of the highest rated fat burners on the market costs almost the same as SuperHD Razor and are proven to be safe & effective).
Check Out The Best Fat Burners This Year!
Heres the best natural fat burners on the market for:
Faster Fat Loss
More Energy 
Suppressed Appetite
Raised Metabolism