Pros
Optimal dosage of Citrulline Malate
Good dosage of Creatine
L-Tyrosine improves your focus
Caffeine can raise energy levels
Cons
Overload of stimulants can potentially cause jittery side effects
Alpha GPC & Huperzine A linked with numerous side effects
Numerous ingredients hidden in a proprietary blend
Not good value for money, in our honest opinion
---
---
About The Product: C4 Ultimate Power
When thinking about pre-workout supplements, it's hard to not vision Cellucor's C4 range of pre-workouts. They've released numerous products in this series including C4 Ultimate Shred.
So it's almost no surprise to see that Cellucor is adding to their line. It makes complete business sense. And C4 Ultimate Power is the latest addition that's stormed the market.
We'll analyze the ingredients in C4 Ultimate Power in this review. But first, we'll tell those new to supplements more about the company behind it.
Who Are Cellucor?
As we mentioned above, Cellucor can certainly be considered as one of the 'big boys' of the supplements industry. The original C4 pre-workout was arguably one of the most popular supplements of its time. And it's the only pre-workout that survived to this day (others such as Jack3d and Craze were banned…).
So that says a lot about Cellucor; they're capable of making products that stand the test of time, and we're big fans of them.
But you're mainly here to learn more about C4 Ultimate Power. So let's see which ingredients have been added to this pre-workout in the section below…
---
C4 Ultimate Power Ingredients Explained
In terms of ingredients, we're pretty happy from first glance. C4 Ultimate Power contains some great ingredients such as Citrulline Malate and Creatine in optimal dosages.
Cellucor has even provided you with the added bonus of natural testosterone boosting nutrients such as Fenugreek in this pre-workout. Personally though, if our main aim was to increase our T levels, then we would choose a specialized test booster supplement.
Anyway, as we said, there's mostly positives about C4 Ultimate Power…except for one thing. It contains a proprietary blend (more on this below).
PROPRIETARY BLEND WARNING…
Proprietary blends are mixtures of numerous ingredients that are only shown to you as 1 quantity. As you can see from the 'C4 Ultimate Energy & Focus Blend' on the ingredient list below, the overall amount is 758mg – but you're not shown the dosages of each ingredient inside such as Alpha-GPC and Huperzine A.
Why is this bad? Well, we believe that this increases your risk of side effects such as jitters, and also makes it uncertain whether the nutrients in C4 Ultimate Power will work. For this reason, we try to avoid any supplement that contains proprietary blends.
Anyway, we're not here to focus on the negatives of this pre-workout. We gave you our honest opinion about proprietary blends above in a nutshell.
Instead, we'll take you through each ingredient in C4 Ultimate Power. By the end of this review, you'll have a good idea of how safe and effective this pre-workout really is.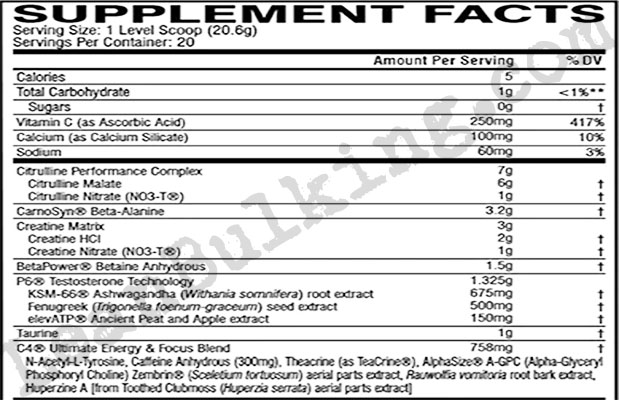 Here's Everything You Need To Know:
Citrulline Malate 
When it comes to experiencing crazy muscle pumps in the gym, Citrulline Malate is your best friend.
It's no wonder that many companies have started to add this to their pre-workouts; Citrulline Malate is proven to raise your nitric oxide levels when consumed in optimal dosages.
The good news is that Cellucor has added a perfect 6,000mg dosage in C4 Ultimate Shred. So no problem here, just a great start here.
Citrulline Nitrate 
While Citrulline Malate was a great addition, there's not much need for Citrulline Nitrate here.
As we mentioned, Citrulline Malate in an optimal 6,000mg dosage will get the job done on its own. So while 1,000mg of Citrulline Nitrate is a nice 'bonus', it's not exactly needed.
Betaine Anhydrous
Betaine Anhydrous has become a very popular addition to pre-workouts. It's believed to enhance your sporting performance and help you gain more muscle mass.
Sounds pretty good right? Well, in our honest opinion, it's a bit too good to be true at this point; there simply isn't enough studies that prove this, for us to believe it for now.
We'll keep an open mind for any future studies. But for now, we would have preferred to see something more tried-and-tested such as L-Carnitine (which is known for reducing muscle damage and fatigue).
Creatine HCI
Also known as Creatine Hydrochloride, this is one form of Creatine.
You might be more familiar with Creatine Monohydrate, which in all honesty we prefer. Call us old fashioned, but we like what's been proven to work over decades of studies and use.
But the good news is that while Creatine HCI is newer than Creatine Monohydrate, it's shown to be effective too. In fact, some believe that Creatine Hydrochloride is actually more water soluble too.
Not only that, 2,000mg of Creatine per serving is a great dosage here. So great job by Cellucor again.
Ultimately, we can support the addition of Creatine HCI here. Even if we would be happier with Creatine Monohydrate instead…
Creatine Nitrate 
Creatine Nitrate is another form of Creatine. However, there haven't been enough studies conducted on this to prove that it's effective.
The good news is that C4 Ultimate Power already contains more than enough Creatine Hydrochloride, so there's no issue here.
---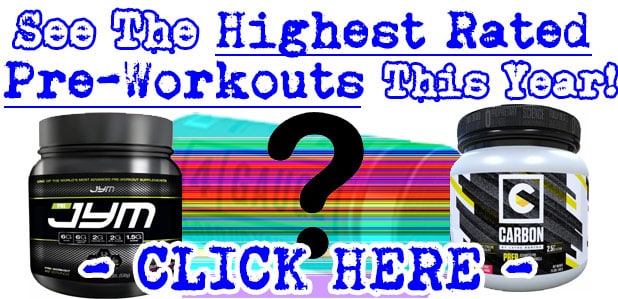 ---
Ashwagandha 
In case you're wondering, this is a herb that was used in Ayurveda (traditional Indian medicine).
It was long believed to improve your testosterone levels. But the bad news is that not many studies have backed Ashwagandha's use as a T-Booster ingredient.
The good news is that Ashwagandha is capable of improving your power output slightly in the gym. So it's not completely useless.
As a result, we're willing to consider this as a good 'bonus' nutrient in C4 Ultimate Power here.
Fenugreek Seed Extract 
If C4 Ultimate Power was a testosterone booster supplement, then Fenugreek Seed Extract would be a key addition here.
However, it's important to remember that C4 Ultimate Power is primarily a pre-workout supplement…
The good news is that Fenugreek Seed Extract has shown to raise your T levels. But it works best when consumed alongside other T-Boosting nutrients; this is why you should look at natural test booster supplements if you're mainly interested in raising your testosterone levels.
elevATP 
This is basically a patented form of ancient peat and apple extract. It's believed to raise your ATP levels in a similar way to Creatine.
However, as C4 Ultimate Power already contains a good dosage of Creatine, we don't necessarily think that elevATP is necessary here.
C4 Ultimate Energy & Focus Blend 
We mentioned earlier in this review that there was a proprietary blend in C4 Ultimate Power. Well, this is it.
The only ingredient with the dosage labelled is Caffeine Anhydrous (at 300mg per serving, which is a large dosage – over what we would recommend). Personally, we would only be comfortable consuming 200mg Caffeine Anhydrous per serving, but that's just our honest opinion.
Anyway, no-one knows the individual dosages of the other ingredients in this blend; this means that it's impossible to know whether they have been dosed optimally or not.
Not only that, our main problem is that this blend contains another stimulant (Theacrine). This along with the 300mg Caffeine Anhydrous makes your risk of jittery side effects much more likely in our honest opinion.
For this reason, we would have personally only included a 200mg dosage of Caffeine Anhydrous without any other stimulants. In fact, we would have much preferred C4 Ultimate Power to not have any proprietary blends included.
---

---
C4 Ultimate Power Side Effects
As we mentioned, the risk of side effects are increased due to C4 Ultimate Power containing a proprietary blend.
The fact that it contains an overload of stimulants (in our honest opinion) can potentially cause jittery side effects to those with a lower tolerance too. So if you don't drink tons of coffee daily, this might not be the pre-workout for you.
Not only that, the same proprietary blend contains Alpha-GPC and Huperzine A; both of these nutrients have been linked with causing numerous side effects.
Here are the potential side effects of taking C4 Ultimate Power: 
Jitters (Overload of Stimulants)
Energy Crashes (Overload of Stimulants)
Nausea (Alpha-GPC & Huperzine A)
Diarrhea (Alpha-GPC & Huperzine A)
Headaches (Alpha-GPC & Huperzine A)
---
C4 Ultimate Power Review Conclusion
Overall, you can see that C4 Ultimate Power is a respectable pre-workout supplement that deserves a place on the market.
There are some real highlights to this product; this includes the optimal dosage of Citrulline Malate and great dosage of Creatine too.
However, we just can't look past the proprietary blend in C4 Ultimate Power. When buying a supplement, we prefer to know everything about it – including the exact dosages of each ingredient inside. This is something you don't get with proprietary blends.
Not only that, those that don't drink much coffee or tea will be at increased risk of suffering jittery side effects. We personally don't feel comfortable consuming over 200mg Caffeine Anhydrous per serving for this reason (and C4 Ultimate Power contains 300mg, as well as Theacrine, which is another stimulant).
[wp-review]
See The Best Pre-Workouts This Year!
Here are the best natural pre-workouts on the market for:
Energy Boosts 
Enhanced Strength & Endurance 
Increased Focus
Skin-Splitting Muscle Pumps