Here's how 4 Gauge helped me:
Reached fitness goals faster – I packed muscle on my arms, chest and legs quicker than before.
Heightened energy levels – No more feeling tired halfway through a gym session, and it helped me get there in the first place!
Skin-splitting pumps in my arms – Feel the blood rushing to your muscles, and train for longer too.
I set new PB's on my lifts – 4 Gauge helped take my gym training to the next level.
No side effects – No distractions from gym sessions by any unwanted jitters, crashes or itchy skin.
Con's:
You can only buy 4 Gauge on their website – can't buy from any online retailers or shops.
Only comes in one flavor – Fruit Blast
Premium price – you have to pay more to get the best product.
Quick Summary
After trying out many different pre-workout supplement's and suffering from side effects, we were glad that we found 4 Gauge. It helped improve our performance in the gym, allowing us to lift more weights and train longer too.
It's made by Roar Ambition, a premium supplements company and costs $45 per bottle normally; but we chose to buy the 'ultimate ammo crate' to reduce the price of each bottle to $37.50.
I know what you're thinking – it's expensive compared to others, but we'd rather pay for a premium product that works, instead of a product that causes jittery side effects.
Not only that, it tastes really good! I've tried other nasty tasting pre-workouts before, so this was a nice change. If I had to describe the taste, i'd say it's like fruity sherbet ice cream in powder form.
4 Gauge comes in explosive packaging, but it gives you clean energy boosts, without the jittery feeling. Most importantly, it took my training to the next level – helping me make serious changes to my physique.
---
Pre Jym by Jym Supplement Science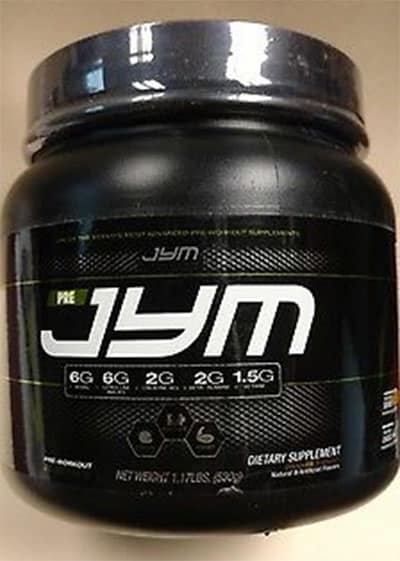 | | |
| --- | --- |
| LeanBulking Overall Rating |    |
| Ingredients Rating |  4/5 |
| Side Effects |  Some Reported |
| Effectiveness |  4/5 |
| Price |  $47.97 |
| Best Deal: | Check It Out |
Pro's: 
6,000mg Citrulline Malate
26.5g serving size
No proprietary blends
Choice of 6 flavors
Con's:
Most expensive pre-workout on the list
300mg dosage of Caffeine (those sensitive might suffer jitters and crashes)
Not the best pre-workout we've tried.
Quick Summary
Pre Jym is a very well-respected pre-workout, and it's easy to see why. It contains an optimal dosage of Citrulline Malate too, which will enhance your muscle pumps in the gym.
In fact, it made this battle with 4 Gauge seriously hard to choose a winner from. We can safely safe that no other pre-workout puts as much as a fight with 4 Gauge than Pre Jym.
The only thing that let's Pre Jym slightly down, is the fact that it contains 300mg Caffeine per serving; this is likely to cause jitters and energy crashes with most people, unless you consume over 4-5 black coffee's per day.
But saying that, everything else has been formulated perfectly in Pre Jym.
or
 Visit their website: www.jymsupplementscience.com
---
Conclusion
This has been probably the toughest decision we've had to make.
Both Pre Jym and 4 Gauge are very highly rated pre-workouts, and they both contain optimal dosages of Citrulline Malate, without any proprietary blends (meaning you can see the exact dosage of each ingredient inside).
However, we had to make a decision.
[wp-review]
---
---