Squash is arguably the most gender equal sport and it's shocking that it's not included in the Olympics.
As you can tell by this website, I'm mainly interested in weight-lifting and bodybuilding. Actually, rugby & soccer take a strong second place, but one thing you'll notice about these sports are that the audience for the women's matches aren't nearly as big as for the men's fixtures.
This is one of the key points I want to make in this article; after experiencing the PSA World Championships 2017 in Manchester at the Central Convention Complex, I realized that Squash is arguably the most gender equal sport out there. It's crazy how underrated it really is.
For this reason, I wanted to put together this article to showcase the main reasons I believe that Squash should be propelled into the spotlight.
---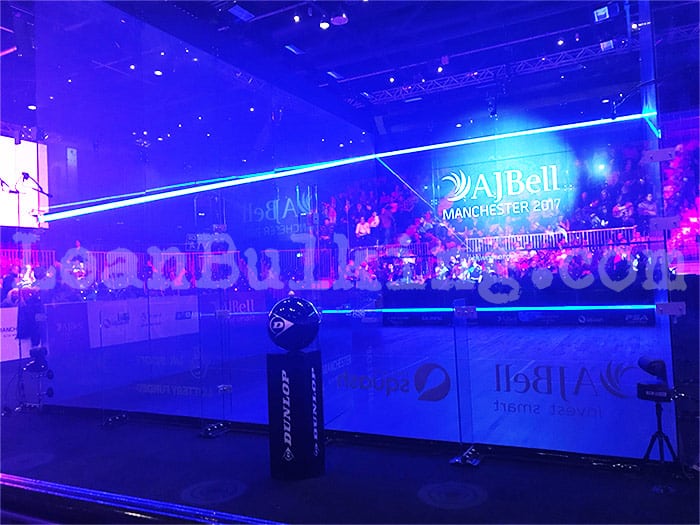 *The view of the Squash court at the Manchester Central Convention Complex from my seat.
---
Equally Animated Crowd For Both Male & Female Athletes
As I mentioned in the opening section, in sports such as rugby and soccer, the female athletes aren't nearly as appreciated as the men. In fact, Johnny Wilkinson or Cristiano Ronaldo are probably household names in most countries, but unfortunately, many would struggle to name even 1 women's rugby player.
Now, what I loved about seeing at the PSA World Championships 2017, is that the audience weren't gender biased at all; there were no empty seats for the women's games, and you could even argue that the audience were more animated during them.
It's no surprise after watching Camille Serme battle in a high intensity war with Egypt's Raneem El Welily (something i'll expand on later).
I would even go as far as saying the women would give the men a seriously hard-time in a competitive game (something I'm sure the men such as Mohamed El Shorbagy would be more than happy to agree with) – I couldn't think of another sport where this would be the case.
That's no disrespect to the men's squash players either, as they're arguably some of the fittest and most technically-skilled athletes out there.
Equal Prize Money
This is the big one. Both male and female athletes received exactly the same prize money at the PSA World Championships in Manchester ($45,000).
Considering that there's still a huge pay-gap between genders in other sports (even in tennis) this is a remarkable feat that should be acknowledged.
Ultimately, this is something that should be replicated in other sports. But as I mentioned before, it's not surprising considering the huge gap in popularity between the men's and women's soccer and rugby teams.
---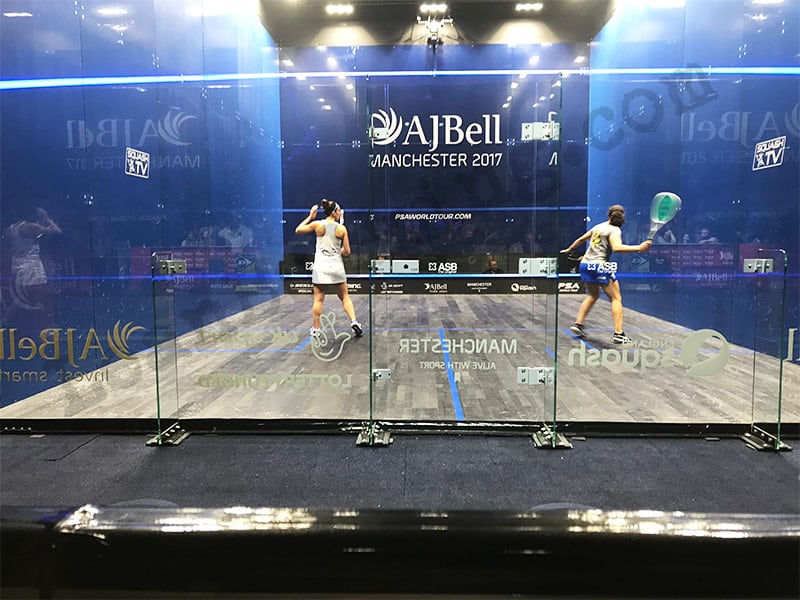 *I was privileged to be sat on the front row watching Camille Serme vs Raneem El Welily in the women's semi-final.
---
My Favorite Game: Camille Serme vs Raneem El Welily
I appreciate both men's and women's sports. But in all honesty, give me a choice of tickets between the men's soccer world cup final or the women's, and I'd pick the men's every time (and I believe over 90% of men would do the same).
However, when it comes to squash, I would happily just watch the women play; this is a sport where females thrive and should be celebrated by everyone for their athleticism and determination.
Sports[wo]manship, flair, intensity and all-out entertainment
In fact, my favorite game in the whole PSA World Championships 2017 was Camille Serme vs Raneem El Welily. It had everything – sports[wo]manship, flair, intensity and all-out entertainment for the entirety of the game's duration.
I couldn't think of another sport I'd seen first hand where I didn't check my phone once. I didn't want to miss a second, with every moment presenting another incredible shot or full-blown rally.
High-paced game and incredible fitness levels
Another thing I appreciated was how intense the atmosphere was in the Manchester Central Convention Complex. You could literally hear each breath the athletes took, and even the sweat-drops landing on the floor; this should illustrate how close the audience is sat to the court, and I can't think of another sport where this is the case.
You can't ignore the fitness levels of these athletes either. These athletes constantly cover every square of the court to complete each shot, and never give-up until they either win or lose.
Ultimately, this game had everything. And while this was my 1st real experience watching professional Squash, I was pleasantly surprised to see opponents picking each other off-the-floor, instead of rolling around trying to receive penalties.
*Update* Raneen El Welily's Reply To LeanBulking 
Fortunately, we managed to contact the 2017 Women's PSA World Champion, Raneem El Welily. We were honored to hear that she enjoyed this review and agreed with many of our views on the sport.
Here's what Raneem had to say:
"Thank you for your appreciation. It's always nice to see someone falling in love with our sport. This is a great review and you are right in many aspects. I hope we'll see you in more events in the future." 
---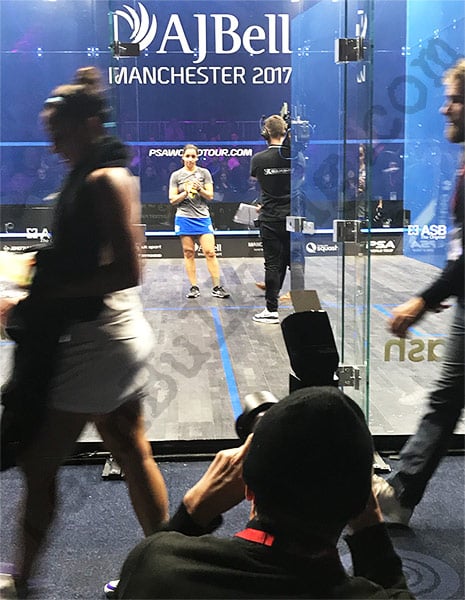 *Raneem El Welily being interviewed after her victory in my favorite game of the PSA World Championships 2017, with Camille Serme walking past in my photo.
---
Verdict: Squash Is Extremely Underrated and Should Be Included In Olympic Games
I can honestly say that I'm now a big fan of Squash. I would be honored to watch these athletes battle in their glass Colosseum once more.
After leaving the Semi-Final of the PSA World Championships 2017, I naturally wondered why I'd never seen Squash as part of the Olympic Games before.
Ultimately, I was shocked to hear that it's been regularly left out of the event, with wrestling taking priority at the 2020 games in Tokyo.
I strongly believe that Squash has paved the way for many sports in the future; i'll repeat that it's arguably the most gender equal sport I've seen, with the sportsmanship of the athletes being second-to-none too.
As a result, hopefully this incredible sport will be showcased on the biggest sporting platform in the world. I wouldn't be surprised to see the popularity of the sport grow even further in the next few years either.