Pro's
Creatine Monohydrate enhances strength & endurance
L-Tyrosine boosts focus
Con's
Beta-Alanine causes paresthesia (see side effects section for more info)
Contains ineffective ingredients
Yohimbe reported to cause numerous side effects
Missing key pre-workout ingredients, such as Citrulline Malate
Not good value for money
---
---

About The Product
Driven 2.0 is a pre-workout supplement made by Rexx Sports Nutrition. It's priced at $44.99 for 25 serving containers on their website, and is available in 2 flavors – Tropic Twist & Pink Lemonade.
This company has really focus on the fact that Driven 2.0 doesn't contain DMAA. But most pre-workouts don't contain DMAA anymore…because it's been banned by the FDA (so this isn't really anything that sets this pre-workout apart at all).
Anyway, we'll tell you more about Rexx Sports Nutrition – before analyzing the nutrient profile for Driven 2.0.
Who are Rexx Sports Nutrition? 
Rexx Sports Nutrition are quite an unknown USA-based supplements company – we won't lie, we hadn't really heard about them before this review…
After looking at the 'about us' page on their website, we like that Rexx Sports Nutrition don't add any proprietary blends in their products (so you can see the exact dosages of nutrients in their supplements).
However, there wasn't any information on when they were founded etc. So we'll get to the important bit – which is analyzing the ingredient list for Driven 2.0 below.
---
Driven 2.0 Ingredients Explained
We're quite tired this morning (we arrived in the office at 7:30 am, which is an early start for us…). So we're happy to see Driven 2.0 only contains 6 ingredients.
And it's actually better when pre-workouts contain less than 10 ingredients; this allows company to spend their budget on dosing these nutrients correctly. In our experience, products containing over 10 ingredients are almost always underdosed (meaning they won't work).
Also, as we mentioned before; we like that Driven 2.0 doesn't contain any proprietary blends – so you can see the exact dosages of each ingredient inside (it's always better to know exactly what you're putting into your body, to stay safe).
Anyway, we'll take you through the ingredients inside Driven 2.0 – so you can see how effective this pre-workout really is.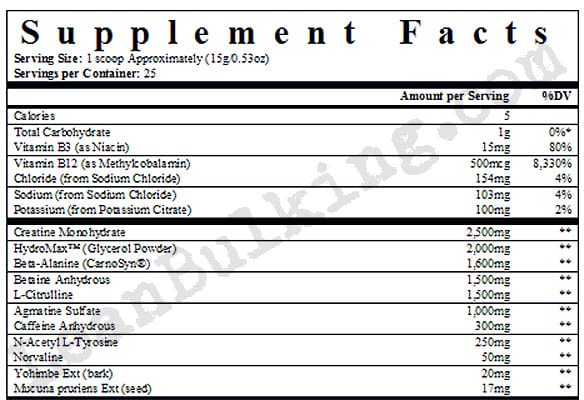 Here's Everything You Need To Know:
Creatine Monohydrate 
Great start by Rexx Sports Nutrition here. Creatine Monohydrate is a key pre-workout ingredient for one reason – it works.
What does it do? Answer: it's proven to boost your strength and endurance in the gym, which will help you make faster progress on your fitness goals.
This nutrient has been dosed well in Driven 2.0. So there's no problems here.
HydroMax (Glycerol) 
Now, this is the first ineffective ingredient inside Driven 2.0. Simply put, it's commonly used as a sweetener in the food and supplements industry.
Not only that; Glycerol is also used as an antifreeze agent and is also popular for use in electronic cigarette liquid. You might be concerned to hear it's also used as a laxative (so make sure there's a toilet in your gym!).
All of this should make it obvious that it's not really beneficial in gym supplements. And studies have shown that Glycerol doesn't deliver any benefits to improve your gym session – which proves our point exactly.
Betaine Anhydrous 
Betaine is actually one of the worst ingredients in the supplements industry.
Why? Because studies have shown it doesn't deliver any useful benefits.
But that's not the worst part; Betaine has proven to cause a strange side effect…it makes your breath and sweat smell fishy.
You don't want to be walking around the gym smelling like a salmon (well, we don't anyway). So personally, we try to avoid supplements containing Betaine – especially as it's literally useless.
---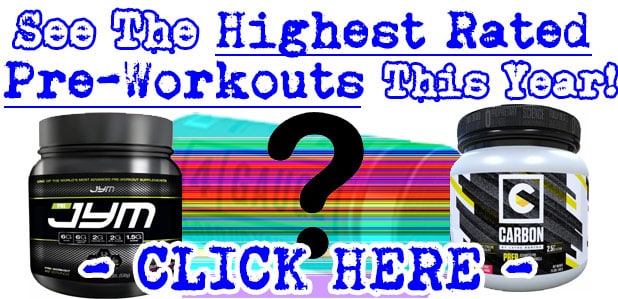 ---
Agmatine Sulfate 
Agmatine Sulfate is added into pre-workout supplements as it's believed to improve your nitric oxide levels (which would enhance your muscle pumps).
However, studies have shown that it doesn't work. For this reason, we consider Agmatine Sulfate to be an ineffective ingredient in supplements.
L-Tyrosine 
We usually tell you that L-Tyrosine isn't needed in a pre-workout supplement. However, as there's no caffeine in Driven 2.0 – L-Tyrosine is useful here to boost your focus in the gym.
It's proven to raise your cognition, which is why it's perfect for Nootropic supplements. But we prefer Caffeine, as this stimulant provides many more benefits than simply improving your focus (such as improved strength, endurance and energy levels).
Yohimbe 
Yohimbe is the last ingredient on Driven 2.0's ingredient list. But it's also the worst…
Why? Answer: Yohimbe has consistently been reported to cause numerous side effects in supplements.
Here's why – it's derived from Yohimbine (which has been banned by the FDA for being unsafe). Yohimbe is able to pass through the legal 'loophole', but studies have shown it's equally as dangerous as Yohimbine.
For this reason, we recommend you to avoid supplements containing Yohimbe. And to be honest, we believe this will be banned soon anyway,
---

---
Side Effects 
As we mentioned, there are 2 ingredients in Driven 2.0 that causes side effects; Betaine and Yohimbine.
Simply put, Betaine is known for making your breath and sweat smell fishy. And Yohimbine causes many side effects, so we'll bullet point them below.
Here's the potential side effects from taking Driven 2.0: 
Fishy smells in your breath and sweat (Betaine)
Nausea (Yohimbe)
Headache (Yohimbe)
High Blood Pressure (Yohimbe)
Rapid Heartbeat (Yohimbe)
Anxiety (Yohimbe)
---
Conclusion
After looking at that list of potential side effects, you can see why we won't be recommending Driven 2.0. This pre-workout is missing many key pre-workout ingredients such as Citrulline Malate and Caffeine.
In fact, looking at the ingredient list for Driven 2.0, it's only likely to improve your endurance and strength slightly (which will be due to Driven 2.0 containing Creatine Monohydrate mainly, with Beta-Alanine providing a slight boost in these benefits).
However, we always say that there's no point in having both Creatine Monohydrate & Beta-Alanine in 1 supplement – as they're both shown to enhance endurance. But we always prefer Creatine Monohydrate, as it hasn't shown to cause any side effects and also improves your strength too.
[wp-review]
Check Out The Best Pre-Workouts This Year!
Here's the best natural pre-workouts on the market for:
Energy Boosts 
Enhanced Strength & Endurance 
Increased Focus
Skin-Splitting Muscle Pumps