Pro's
Beta-Alanine shown to enhance muscular endurance
Caffeine is a key pre-workout ingredient (can boost focus, strength, and endurance)
Con's
Betaine shown to be ineffective, but can cause fishy odors in your breath and sweat.
Beta-Alanine shown to cause paresthesia.
Better pre-workouts for a similar price.
---
---

About The Product
Condense is a pre-workout supplement designed to boost your endurance in the gym. It's made by Purus Labs, costs $44.95 on their website.
Condense is available in 6 different flavors:
Crisp Green Apple
Freshly Sliced Pineapple
Juicy Florida Orange
Melonberry Cooler
Natural Sangria Lemonade
Tropical Island Punch
Who are Purus Labs? 
Purus Labs are a supplements company that aim to deliver the best products on the market – but we'll be the judge of whether they do.
Anyway, let's take a look at whether Condense is worth trying.
---
Condense Ingredients Explained 
This review will be pretty quick, as Condense only contains 5 ingredients – this isn't a bad thing, as we'd rather have less ingredients that work, instead of numerous ineffective ones.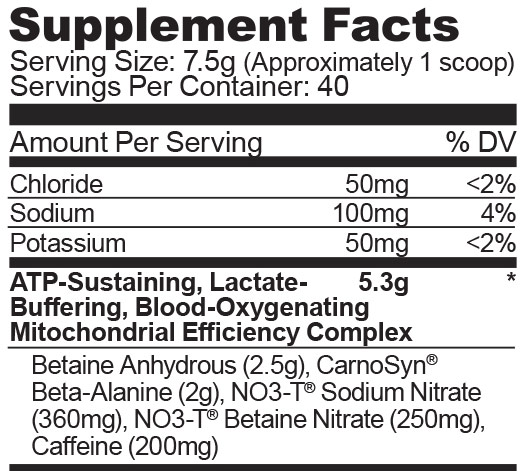 Here's Everything You Need To Know:
Caffeine
This can be one of the best pre-workout ingredients when dosed correctly. If consumed in dosages between 150-200mg, then you'll experienced improved strength, endurance, and focus.
However, if you consume too much Caffeine (over 200mg per serving), then you'll suffer from side effects like jitters and energy crashes.
Purus Labs has done well by dosing Caffeine at 200mg.
Beta-Alanine 
We have mixed opinions about Beta-Alanine. Here's why – it's shown to improve muscular endurance, but it can also cause a side effect called paresthesia (see side effects section for more info).
Betaine
The worst ingredient in Condense. Betaine has shown to be ineffective in almost every study conducted on it.
The worst thing is that Betaine is taking up most of the space in Condense. It can also cause fishy odors in your breath and sweat…which isn't nice.
Sodium Nitrate 
This is basically salt mixed with Nitrate. It's great for rehydrating you, but won't do much else.
Betaine Nitrate 
Betaine Nitrate is basically Betaine (same as the one above), but mixed with Nitrate. As Betaine is ineffective, this ingredient is also likely to be ineffective.
---

---
Side Effects
Condense won't cause any serious side effects, but it'll cause paresthesia and fishy odors in your breath and sweat.
Paresthesia is a tingling on the skin of your face and body – it's harmless, but it can be quite distracting.
Here's the potential side effects from taking Condense: 
Paresthesia – tingling on the skin of your face, chest, hands, fingertips and toes (Beta-Alanine)
Fishy odors in your breath and body secretions (Betaine)
---
Condense Review Conclusion
For $44.95, there are much better pre-workouts for you to choose from. Simply put, there's only 2 effective ingredients in Condense – Caffeine and Beta-Alanine.
The rest of the ingredients are ineffective and not worth your money. We'd have preferred to see ingredients like Creatine Monohydrate, which has proven to improve strength and endurance during your workout.
For this reason, we recommend that you look at other pre-workouts before trying Purus Labs' Condense.
See The Best Pre-Workouts This Year!
Here's the best natural pre-workouts on the market for:
Energy Boosts 
Enhanced Strength & Endurance 
Increased Focus
Skin-Splitting Muscle Pumps