Joint supplements can be really beneficial to protect your joints. They can be useful for everyone from young athletes, to older inactive men and women – making sure your joints remain healthy should be a top priority for all.
So, first of all, you're doing the right thing by conducting research before pressing the "buy now" button on a product.
And we want to help you do the right thing by providing an in-depth analysis of Performance Lab Flex vs Relief Factor – as well as recommend another other product should it be worth your while.
So, without any further delay, let's get into the important stuff below…
Which Is the Better Joint Supplement from First Glance:
Performance Lab Flex vs Relief Factor?
In terms of joint supplements, both of these products look respectable. That's the truth and you won't do far wrong by choosing either of them.
However, from first glance, it's clear to see that Relief Factor has less ingredients than Performance Lab Flex. Meaning, although it costs roughly the same in price, it's not offering the same value.
That being said, Relief Factor contains different ingredients to Performance Lab Flex, so they should almost be considered as two separate products rather than the 2 joint supplements offering the same thing; for example, Relief Factor contains omega 3, which is a great ingredient, while Performance Lab Flex doesn't contain omega 3 but offers Glucosamine and other beneficial ingredients not found in Relief Factor.
If we're looking purely from a cost analysis, we believe Performance Lab Flex could be the better option here.
---
To Buy Performance Lab Flex, Visit:
» www.PerformanceLab.com «
---
Should You Consider Other Products apart from Performance Lab Flex and Relief Factor?
We applaud you for doing enough research to have come up with 2 joint support supplements.
However, what if we told you that there was another product that we would recommend?
That product is Physio Flex Pro.
Physio Flex Pro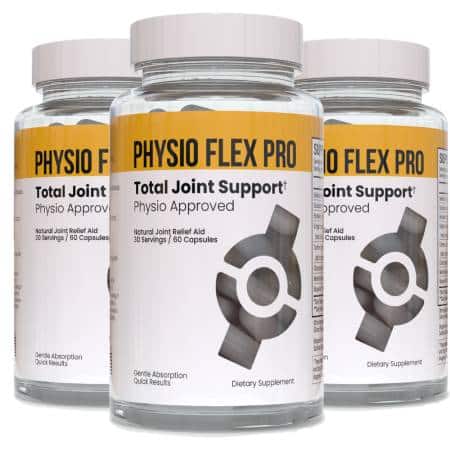 We first heard of Physio Flex Pro when visiting our physio after a weight lifting related injury on our shoulder. He mentioned that he recommended a joint support supplement to his clients that are NFL players (we can't list names and neither could he), so we immediately had a look at what the product was.
He mentioned the name, Physio Flex Pro. It sounded professional enough, and let's be honest, I always trust my physio to help me recover – he hasn't failed yet.
So, I went over to www.PhysioFlexPro.com and had a look at the product and website.
I liked the back story from the owner, Eddie, who originally created Physio Flex Pro due to suffering from stiff legs in the morning and after exercise. And that formulating Physio Flex Pro had been his saviour that he was now offering to the public.
I loved this backstory so gave it a go. And I've never looked back – it's not the cheapest, but I always pay for more expensive running shoes because I know they'll last longer and help me perform better, so don't mind paying higher prices for higher quality.
Physio Flex Pro Ingredients: A Closer Look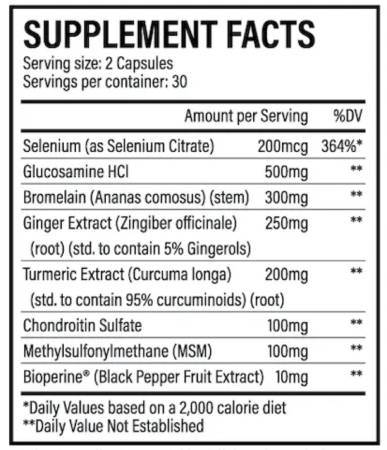 The ingredients in a joint support supplement determine how effective it is. As well as how good value for money it is too.
You'll be glad to hear that Physio Flex Pro contains 8 high quality ingredients that have all shown to work in synergy through clinical studies; this includes the trustworthy Glucosamine, Turmeric, Chondroitin Sulfate and MSM that we always look for in a reliable joint support supplement.
Physio Flex Pro Ingredients vs Performance Lab Flex & Relief Factor
As we just mentioned, Physio Flex Pro contains 8 ingredients in high, effective dosages. Making it the best value out of these 3 products, even at its high price tag of $60.
In comparison, Performance Lab Flex contains 6 ingredients (which is still very respectable). Relief Factor contains only 4 ingredients – again, not a bad number, but also not as good value as Physio Flex Pro either.
Looking at the facts and numbers, Physio Flex Pro also contains Bioperine (black pepper extract) too, which Performance Lab Flex and Relief Factor don't; black pepper extract can be important due to its ability to improve bioavailability, meaning it helps your body digest other ingredients that it's taken with, thus improving the effectiveness of the product in general.
For this reason, we believe Physio Flex Pro lines up as the Number 1 choice when choosing a joint supplement out of these 3 options.
---
To Buy Physio Flex Pro, Visit: 
» www.PhysioFlexPro.com «
or
Read our full 
Physio Flex Pro Review
---
Analysing the Ingredients in Performance Lab Flex vs Relief Factor vs Physio Flex Pro Further
We completed our quick cost analysis of the ingredients in all 3 products above, mentioning that Physio Flex Pro contained the most ingredients.
So, we'll now analyse the top ingredients found in these products that you should always look for when choosing a joint support supplement.
Glucosamine
If Caffeine is known for boosting energy levels and keeping you awake, then Glucosamine is just as popular and effective when it comes to protecting your joints; you'll find this in any reliable joint supplement for humans, dogs and other animals because of how clinically proven to work it is.
The good news is that both Physio Flex Pro & Performance Lab contain an optimal 500 mg dosage of Glucosamine in their formulas.
Turmeric
Even those that aren't very knowledgeable about supplements know about the benefits of Turmeric and include this ingredient in their diets for this reason.
It's been used for centuries due to its anti-inflammatory properties. A study has even shown that Turmeric has been capable of reducing joint pain associated with arthritis [1].
Physio Flex Pro and Performance Lab both contain great dosages of Turmeric in their formulas. While Relief Factor doesn't.
Chondroitin Sulfate
This is an interesting ingredient that's known to work in synergy with Glucosamine. One study in particular proved that it as effective in treating joint pain associated with arthritis – and more importantly, are much safer than other chemicals that can be used to treat joints [2].
It works by supporting collagen production (which is also known to help with keeping your joint health at a maximum) as well as promote chondroctye cells that regulate cartilage repair.
We'll stop there before we get soo far into the science, but just know that Chondroitin, alongside Glucosamine, should be a necessary addition to all joint supplements that you consider.
It's another reason why we're happy to recommend Physio Flex Pro due to it containing both ingredients.
---
Performance Lab Flex vs Relief Factor: Conclusion
As we've mentioned, both of these supplements are great choices and you've done well by narrowing down your search to these products.
Out of Performance Lab and Relief Factor, we'd definitely recommend Performance Lab Flex; it contains a higher number of effective ingredients, meaning you get more for your money.
However, even compared to Performance Lab Flex, Physio Flex Pro comes out the winner. Physio Flex Pro contains high dosages of 8 effective ingredients (compared to 5 in Performance Lab Flex), making Physio Flex Pro the best value joint supplement that we've come across.
---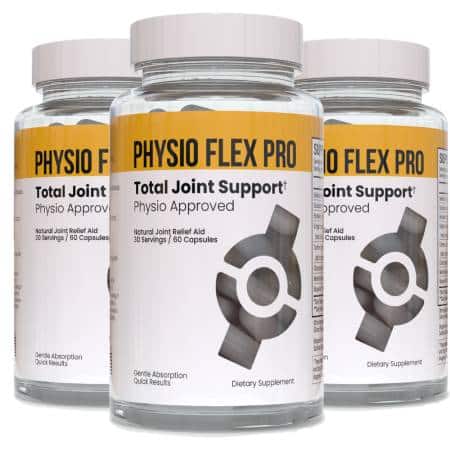 To Buy Physio Flex Pro, Visit: 
» www.PhysioFlexPro.com «
or
Read our full 
Physio Flex Pro Review
---
References:
J W Daily. Efficacy of Turmeric Extracts and Curcumin for Alleviating the Symptoms of Joint Arthritis: A Systematic Review and Meta-Analysis of Randomized Clinical Trials. J Med Food. 2016 Aug 1; 19(8): 717–729.
J Jerosch. Effects of Glucosamine and Chondroitin Sulfate on Cartilage Metabolism in OA: Outlook on Other Nutrient Partners Especially Omega-3 Fatty Acids. Int J Rheumatol. 2011; 2011: 969012.