Pros
Optimal dosages of key T-Boosting nutrients – eg. 4000IU Vitamin D3.
Key nootropic ingredients included as an added bonus – boosts mental performance as well as testosterone
No BS on their page, everything backed by clinical studies – numerous studies cited for each ingredient on their website
I gained a palpable amount of muscle mass due to higher T levels – you can check out my transformation pics in this review
No dangerous or banned ingredients = no side effects 
Free Shipping on ALL purchases – no 'spend $100 to get free shipping' BS, everything comes with free shipping!
Cons
Premium price – we've come to accept that you have to pay to get the best products on the market
Only available to buy direct from their website – ordering was fast and easy & PayPal payment is an option
---
---
About The Product: Centrapeak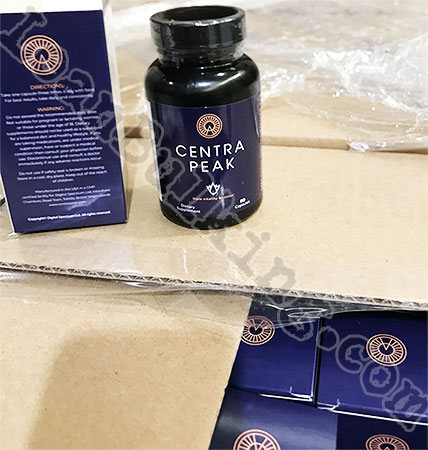 Centrapeak is a testosterone booster that was released in late 2018. Considering all of the highest rated test boosters have been around for years, it's great to see a fresh face in an otherwise increasingly uncompetitive market.
It comes in 30 serving containers with a serving size of 3 capsules; this is great as it will ensure your body is 'topped up' throughout the day with essential nutrients.
In terms of cost, it's not the cheapest on the market. Centrapeak will set you back $65 for one container, but the good news is that shipping is free with even one box orders. This is great, as I've had to pay an additional $15 for shipping on other testosterone boosters in the past!
If you're looking to buy more than one box, they offer multi-box deals: $120 for 2 boxes, $160 for 3 boxes.
I initially thought buying numerous bottles was a risk at first, so I was happy to see that Centrapeak offered a full refund guarantee; they'll refund one used bottle, as well as any unused bottles fully.
In fact, their money-back guarantee is probably the best I've seen offered. So, for me personally, it removed any risks associated with trying a new product out.
---
Centrapeak's Ingredients Explained
I always place an emphasis on the ingredients featured in a supplement. Think of the ingredients as the engine of a car. A car can look nice and shiny on the outside. But if it has a broken and rusty engine, it's not going to work. It's the same thing with supplements.
From first glance, I was pretty excited when I 'took a look under the hood'. Centrapeak's supplement facts label showed that this company had really spent time formulating this testosterone booster.
One thing I look for in testosterone boosters is for a dosage equivalent to, or higher than 3,332IU of Vitamin D3. This is because studies seem to show that this dosage is optimal for boosting testosterone, and I always source information from clinical studies.
So I was happy to see that Centrapeak contained a great 4,000IU dosage of Vitamin, which is more than enough.
Anyway, I'll take you through each ingredient in this testosterone booster in this section. By the end of this Centrapeak review, you'll have a good idea of how safe and effective this supplement is.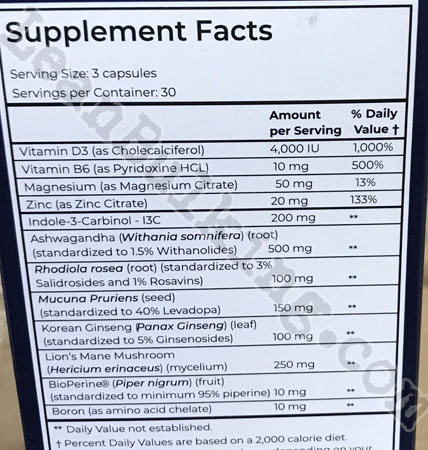 Here Is Everything You Need To Know:
Vitamin D3 
As mentioned briefly above, the dosage in Centrapeak is optimal for increases in testosterone levels. Numerous studies have shown that consuming at least 3,332IU Vitamin D3 can boost T levels, so the 4,000IU found in Centrapeak is more than enough.
Now, I've found other test boosters that contain 5,oooIU; while this is safe (as it's not shown to cause side effects in large dosages), it's not really necessary to have much more than 3,332IU included: https://www.ncbi.nlm.nih.gov/pubmed/21154195
All in all, Vitamin D3 is probably our favorite nutrient in a testosterone booster. Even in lower dosages in multivitamins or supplemented separately, it's shown to be beneficial to your general health.
Zinc 
Even if you don't know much about nutrition or micronutrients, you'll probably know about Zinc; it's no coincidence that foods high in Zinc are known as aphrodisiacs (oysters being a prime example).
Ultimately, Zinc has proven to support healthy testosterone levels as well as general health. No-one can really argue against that.
If you're interested, check out a clinical study that shows the link between Zinc and Testosterone here: https://www.ncbi.nlm.nih.gov/pubmed/8875519
The only thing to look out for is the dosage of Zinc in supplements. The TUL (tolerable upper limit) for Zinc daily is set at 35mg, so we don't recommend consuming over 25-30mg of Zinc through supplements.
Centrapeak has done a great job here. The 20mg added will ensure you receive sufficient Zinc, without going close to the 'danger zone' of 35mg.
Indole-3-Carbinol 
In case you're wondering, Indole-3-Carbinol is known as an AI (aromatase inhibitor). In simple terms, this means that it can keep your estrogen levels down, meaning it's not eating away at your testosterone levels – so your T levels can stay at optimal levels.
If in doubt, check out a clinical study here: https://www.ncbi.nlm.nih.gov/pubmed/25612679
Ultimately, as men get older, it's known that their aromatase levels are increased (raising their estrogen levels). This is why certain AI's such as Indole-3-Carbinol can be beneficial alongside T-Boosting nutrients as Vitamin D3.
Ashwagandha 
Ashwagandha is an ayurvedic herb that's been around for a very long time. It's been used in traditional medicine due to the belief that it can increase male vitality.
The results are somewhat conflicting, but most recent studies show positive results for Ashwagandha and its link to testosterone.
The good news is that Ashwagandha has proven to be capable of helping individuals engaging in resistance training pack-on muscle mass and improve your strength levels. If you're interested, here is the study that shows this: https://www.ncbi.nlm.nih.gov/pubmed/26609282 
More good news is that Ashwagandha hasn't shown to cause any side effects either. Ultimately, on the off chance that Ashwagandha doesn't raise T levels, it'll still help you gain muscle mass and break your record lifts – not bad…
Rhodiola Rosea 
Centrapeak is sold as not only a T-Booster, but also as a supplement that's able to improve your mental performance too. Well, Rhodiola Rosea is one of the ingredients that take care of the 'mental performance' side of things.
Basically, Rhodiola Rosea is one of the best nootropic ingredients out there (in our honest opinion). It's found in LeanBulking' favorite Nootropic supplement, as well as many others, and even some pre-workouts due to its ability to boost your focus too, which can help strengthen your 'mind-muscle-connection' during workouts.
Not only that, Rhodiola Rosea is also known to be capable of reducing your stress levels and improving your mood too.
Mucuna Pruriens 
Also known as 'velvet bean' due to it's furry texture (don't worry, you won't taste or have any fur due to it being in powder form and in a capsule) Mucuna Pruriens has shown great results when it comes to increasing your testosterone levels.
This is because it contains high amounts of L-Dopa, which leads to increases in L-Dopamine and testosterone. One particular study also shows that Mucuna Pruriens is able to improve semen quality and male fertility as a result too: https://www.ncbi.nlm.nih.gov/pubmed/18973898
As a result, I personally consider Mucuna Pruriens as one of the key testosterone boosting ingredients you can find in T-Booster supplements. Great job by CentraPeak here.
Korean Ginseng (Aka. Panax Ginseng)
Used in East Asian traditional medicine for centuries, Panax Ginseng is known as the 'true ginseng' due to being the most beneficial form of ginseng.
You'll also be glad to hear that clinical studies have shown that Panax Ginseng is also capable of raising testosterone levels too. The study we'll link to conducted tests, giving subjects dosages of Panax Ginseng for 60 days (2 months): https://www.ncbi.nlm.nih.gov/pmc/articles/PMC3861174/
As an added bonus, there was a test carried out that showed Panax Ginseng is capable of improving the quality of erections too: https://www.ncbi.nlm.nih.gov/pubmed/16855773
All in all, in terms of male vitality, Panax Ginseng is definitely a key player. Another great addition to CentraPeak here.
Lion's Mane Mushroom 
We mentioned that Rhodiola Rosea was a 'nootropic' ingredient. Well, Lion's Mane Mushroom is the same, as its main benefit is being able to boost your cognition and mental performance.
In fact, Lion's Mane Mushroom is another nutrient that's found in the leading Nootropic supplements in the industry, for one reason – it works. If you don't believe it, here is a study that shows positive results: https://www.ncbi.nlm.nih.gov/pubmed/18844328
Boron
Boron is a trace mineral that you might not have heard of before, especially if you don't have a great knowledge of nutrition. However, it's actually known as one of the best minerals out there.
A study by Lara Pizzorno titled 'Nothing Boring about Boron' stated that: "boron has been proven to be an important trace mineral because it (1) is essential for the growth and maintenance of bone; (2) greatly improves wound healing; (3) beneficially impacts the body's use of estrogen, testosterone, and vitamin D" among 11 other points outlining its benefits.
This reinforces the point that people shouldn't overlook vitamins and minerals. While herbs and other nutrients are beneficial too, trace minerals such as Boron in supplements can make a big difference; as Lara Pizzorno's study points out, Boron can enhance the effects of Vitamin D3, which has shown to boost T by itself.
Not only that, Boron has actually shown to be capable of boosting T levels by itself too, after just 1 week of supplementation: https://www.ncbi.nlm.nih.gov/pubmed/21129941 
BioPerine 
BioPerine can be seen as the least exciting ingredient in Centrapeak (and any supplement that it's included in). It's basically a patented form of Black Pepper Extract, which contains high amounts of Piperine (the active ingredient in Black Pepper) that has shown to increase absorption levels of supplements that it's added to.
So, in simple terms, BioPerine makes supplements more effective.
Simple but effective with no need of messing around with too much science here.
---

To Learn More About Centrapeak's Ingredients
Visit: www.Centrapeak.com
---
My Personal Experience with Centrapeak
I'm always on the lookout for new products and I've been pretty disappointed so far by new arrivals from 2017 onwards. However, when I started to see great reviews of a recently released testosterone booster, I wanted to take a look further. As you've probably guessed, this product was Centrapeak.
When reviewing and trying T-Boosters, I always try them for 2-3 months before providing my honest opinion; this is because they don't contain stimulants such as caffeine, so you won't feel a 'kick' after the first serving. It's the same thing with multivitamins, you won't feel the benefits of taking an effective product after the first week.
For me, personally, the main reason I take testosterone boosters is to try and give myself an edge in gaining more muscle mass than I would naturally. However, I know that many others enjoy taking effective T-Boosters to boost their libido and general male vitality (which this product is mainly aimed at achieving), so I'll try to cover all these points in this section.
Here is an in-depth review of my personal experience (along with progress pictures) of taking Centrapeak for 3 months below…
My Experience Buying from Centrapeak's Website
I'd just come off a 'cutting' period so I'd lost quite a lot of muscle mass.
I had been following a calorie restrictive diet in order to get lean again, so I wasn't feeling great in terms of male vitality; my libido was low, I was finding it harder to get out of bed in the morning and I just had a feeling something wasn't quite right – obvious symptoms of my test levels not being quite where they should be.
After taking a look at Centrapeak's supplement facts label, I was impressed by the ingredients and dosages included. The money-back guarantee definitely helped me push that 'buy now' button – it's always slightly scary when buying new product, but that might just be me being weird…
I paid using PayPal to give myself that 'extra' reassurance and went for the 3 box deal for $160. This is a lot of cash for the average person, there's no denying that. But the other 'best' options on the market are very similarly priced and come with the added $15 shipping fee too, so it's not too bad considering this.
So, I was glad to see that Centrapeak arrived within 3 days. Not bad for free shipping!
All in all, there was nothing wrong with the buying process on Centrapeak's site. I haven't been charged with any hidden recurring charges or anything nasty like that either.
1st Month Taking Centrapeak
I never expect too many changes in the first week or 2 while using a testosterone booster. They're not like pre-workouts where you feel the stimulants taking effect within the 1st serving.
Saying that, I never like feeling that my money has been wasted on a 1 box purchase either. So, I was happy towards the end of the month when I began to feel 'more myself'…
I felt happier, I felt that I was recovering from my workouts quicker. And I just felt a great motivation to lift weights and make progress.
I accepted that I wasn't going to make much progress in terms of packing on muscle mass in a month, but I managed to step up the amount of reps on some lifts (dumbbell bench press & military press) so that was definitely a positive.
Check out my picture of my starting point…you can tell that I'd just finished a big weight cut and I wasn't happy that I'd lost muscle gains.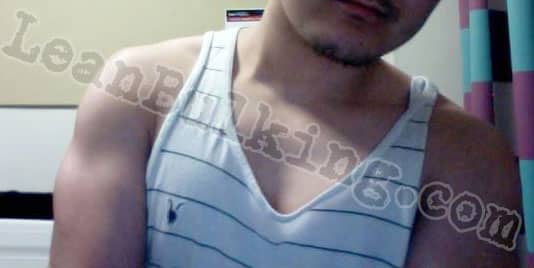 2nd Month Taking Centrapeak
By the second month, I really expect to see a difference. If I don't, then I'll swiftly begin moving on to the refund process to get my money back.
The good news is that I actually did see results by the end of the second month.
Now, I wasn't feeling like 'Superman' like other people claim when trying T-Boosters (never believe this type of BS) but I did feel 'better'.
I'm not a doctor so this is quite hard to describe or explain fully. But imagine yourself on those days when you're feeling happier about life, experience better quality sleep and find it easier to get out of bed in the morning – I was starting to feel that my testosterone levels were being restored to normal levels.
Most importantly for my fitness goals, I had managed to visibly pack on muscle mass, so this also contributed to why I was happier with myself too; it's always impressive how much extra self-confidence having bigger arms and chest can deliver.
Check out my progress picture below…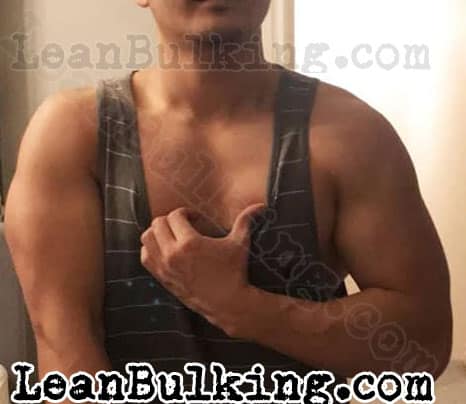 My Final Month Taking Centrapeak & Transformation Picture
Crunch time. The end of the final month taking a supplement that you'd spent quite a lot of cash on is always important.
Now, I never blame a supplement if I don't see the results that I wanted. There's a lot more to gaining muscle mass than just popping a few pills – everyone should know this.
So, I set realistic expectations (I knew that I wasn't going to look like Arnold Schwarzenegger after 3 months). Ultimately, I was very happy with the results of taking Centrapeak, following a high protein diet and following an effective workout routine in the gym.
If you're interested, I set my protein intake at around 110-120g per day. My calorie intake at 2300kcal per day (my calorie intake when cutting is 1600kcal as I find this sustainable, maintenance is around 1800-1900kcal).
I don't track my carb intake too much when gaining muscle mass – as long as I don't go overboard on calories then I don't find myself adding too much body fat regardless of carb intake. Of course, everyone's calorie intake will be different so it's important to find what works for you. I've been lifting weights and adjusting my diet for a very, very long time so I'm aware of what works for me.
Anyway, I felt great after 3 months of Centrapeak. I did expect this as the ingredients and dosages in this product are great and scientifically backed. And again, most importantly, I managed to pack on enough muscle mass to make me happy too (final progress picture below).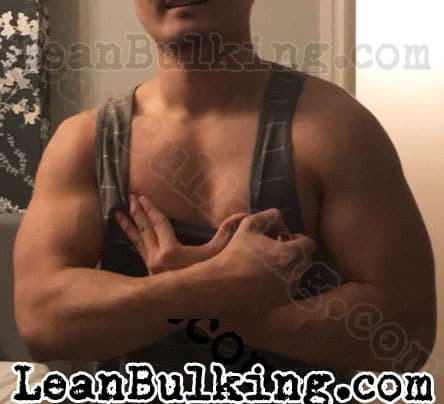 ---
Side Effects
I personally didn't experience any side effects while taking Centrapeak.
Looking at the ingredients included in Centrapeak's formula, there isn't anything that stands out as a potentially harmful addition, so this wasn't too much of a surprise.
As a result, I can safely say that for me, Centrapeak was side effects free and I am happy to recommend it as being side effects free, in my honest opinion.
---
Centrapeak Review Conclusion
There have been certain products that have been dominating the Testosterone Booster Supplements market for a long time (several years now), so it's great to see a fresh face arrive that, not only competes but is capable of overtaking them.
We're glad that Centrapeak hasn't been marketed with crazy claims either. No pictures of guys that look like they've taken steroids on their site – just clean, scientific backed information. This is very refreshing to see!
In fact, Centrapeak seems to be the perfect 'all-rounder' in terms of boosting male vitality. Not only does it contain the right ingredients to boost your T back to optimal levels, but it made a big difference for me personally (as you can see from my 3-month progress pictures).
As a result, if you want a supplement that's able to boost your testosterone, support & improve mental performance and give you that edge when trying to add lean muscle mass to your frame, we recommend CentraPeak.
[wp-review id="8662″]