Pro's
Contains Creatine Monohydrate
L-Citrulline can enhance muscle pumps
Con's
Beta-Alanine causes paresthesia (see side effects section for more info)
Contains HUGE 300mg Caffeine per serving (likely to cause jitters and energy crashes)
Yohimbe reported to cause numerous side effects
Contains some ineffective ingredients
---
---

About The Product
BSN Endorush is a pre-workout supplement priced at $29.99 per 30 serving containers. It comes in 5 different flavors – Blue Razz, Fruit Punch, Island Cooler, Sour Candy, Watermelon (these all sounded tasty, but we went for the Sour Candy – because who doesn't like Sour Candy?!).
Anyway, well analyze the ingredients inside BSN Endorush – after telling you about the company behind this pre-workout below.
Who are BSN? 
BSN are a supplements company founded in 2001. Since then, they've become a big name in the industry – sponsoring top level athletes such as Conor McGregor and India Paulino.
So we're going into this review with big expectations for BSN EndoRush. Ultimately, if a company has been around for a while, they should know exactly what's good in supplements (and what to avoid).
Let's get to the main course and see what's inside this pre-workout in the section below.
---
BSN EndoRush Ingredients Explained
BSN EndoRush contains 12 ingredients overall; this is a HUGE number to have, and we prefer supplements to contain less than 10.
Why? Because we usually find these products usually come with under-dosed ingredients. Ultimately, you can have the best ingredients, but if they're not dosed optimally then they won't work.
But one good thing is that BSN EndoRush doesn't contain any proprietary blends (meaning you can see the exact dosages of each ingredient inside. So we like that BSN hasn't tried to hide anything here.
Anyway, we'll take you through each ingredient inside BSN EndoRush – so you can see how effective this pre-workout really is.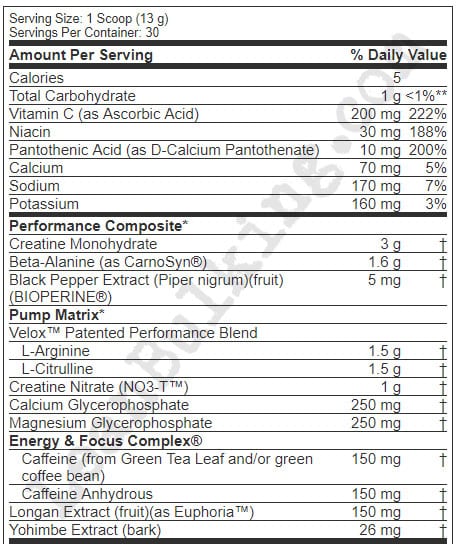 Here's Everything You Need To Know:
Creatine Monohydrate 
Creatine Monohydrate is a key pre-workout ingredient, so this is a great start by BSN. Simply put, Creatine Monohydrate is able to boost your strength and endurance – which are both advantages to improve your gym session.
It' also been dosed well, so no problems here. Good start, let's hope BSN can continue this momentum.
Beta-Alanine 
This is always a controversial ingredient that splits opinions. Why? Because it can improve muscular endurance, but it also causes a side effect called paresthesia.
What's paresthesia? Answer: a tingling and itching sensation on the skin of your face and body.
Personally, we don't like experiencing this side effect while lifting weights – so we try to avoid supplements containing Beta-Alanine. But we accept that others don't find paresthesia as distracting, so we won't let Beta-Alanine really affect our final decision on BSN EndoRush in this review.
However, we will mention this; Creatine Monohydrate offers the exact same benefit as Beta-Alanine (increased endurance) without causing any side effects; meaning there's no need for Beta-Alanine here.
Black Pepper Extract 
In case your wondering; yes, this is the same black pepper that you sprinkle on your food (and Gordon Ramsay is known for loving this ingredient).
But it does more than just enhance the taste of your meals – Black Pepper Extract has shown to improve your digestion and absorption rate of supplements.
Although it's never a key ingredient in any supplement, Black Pepper Extract can be a great 'bonus' feature. But companies need to make sure they've perfected their formula before adding this in.
L-Arginine & L-Citrulline
We're not sure why BSN has added both L-Arginine & L-Citrulline into EndoRush. Simply put, these ingredients are both designed to improve your muscle pumps in the gym – but only 1 of them works.
Which one is better? Answer: L-Citrulline. This is because L-Citrulline has a great absorption rate and is proven to work.
On the other hand, L-Arginine has a poor absorption rate – meaning it's ineffective when orally supplemented. BSN should have done more research before adding L-Arginine here.
However, we'll also add that Citrulline Malate is better than both of these ingredients; this is basically L-Citrulline mixed with Malic Acid, which has proven to boost your strength as well as muscle pumps in the gym.
If you're interested in Citrulline Malate, then you'll need an optimal dosage of 6,00mg per serving for it to work.
Creatine Nitrate 
There's no need for Creatine Nitrate here. Why? Because BSN EndoRush already contains Creatine Monohydrate (which is the best form of Creatine that's proven to work).
Simply put, no study has proven whether Creatine Nitrate actually works – making this an unreliable ingredient.
---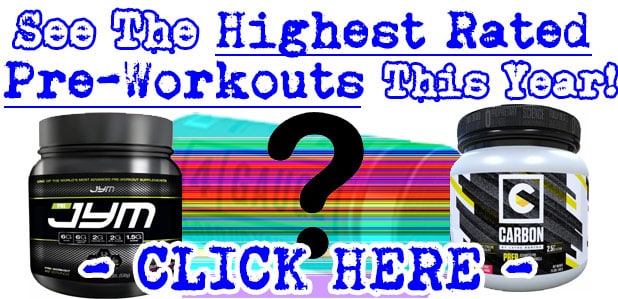 ---
Calcium Glycerophosphate 
Not much is known about Calcium Glycerophosphate at all. In fact, as we're writing this review, the wikipedia page on this mineral is blank (which proves our point…)
The only study we found that suggests its beneficial in either way showed that it can protect your teeth. However, while having nice teeth is a good thing, it's not going to improve your performance in the gym.
For this reason, we consider Calcium Glycerophosphate as an ineffective ingredient for now. But we'll be keeping an eye on this mineral and updating regularly.
Magnesium Glycerophosphate 
Again, this is another ingredient that hasn't proven to offer any benefits in studies. For this reason, Magnesium Glycerophosphate is an ineffective ingredient BSN EndoRush.
Caffeine 
There are 2 sources of caffeine in BSN EndoRush; Caffeine from green tea leaf & green coffee beans, and also also Caffeine Anhydrous.
Basically, all you need to know is that the overall Caffeine dosage is 300mg per serving. But this isn't a good thing…
We always recommend you to consume under 200mg Caffeine per serving in pre-workouts. However, as BSN EndoRush contains over this amount, you're likely to suffer from side effects – such as jitters and energy crashes.
Longan Extract 
Also known as 'Long Yan Rou' in Chinese, this is a fruit of the tropical tree commonly found in East Asian countries (such as Malaysia, China & Vietnam).
However, this is is 'brain booster' ingredient that's not needed in a pre-workout supplement. It's more useful in Nootropic supplements, but it's not even a key ingredient in these supplements as it's not actually scientifically proven to work.
Not only that, as BSN EndoRush already contains Caffeine, which offers enough improvements in your focus to benefit your gym session. This means Longan Extract is an uncessary ingredient here.
Yohimbe Extract 
Now, this is the worst ingredient inside BSN EndoRush; it's been reported to cause numerous side effects consistently.
What is it? Well, Yohimbe is extracted from Yohimbine (which has been banned in numerous countries such as the UK & Canada). And Yohimbe is proven to be equally as dangerous as Yohimbine.
In fact, we believe Yohimbe will be banned for use in supplements soon too.
Not only that; Yohimbe's main benefit is promoting fat loss. As this isn't a direct benefit you want from a pre-workout, it's not even needed in BSN EndoRush.
If you're main goal is to lose fat, then a fat burner supplement is what will benefit you the most.
---

---
Side Effects
There are 3 things in BSN EndoRush that can cause side effects; Beta-Alanine, Yohimbe and the HUGE 300mg Caffeine per serving.
This is a quick summary; Beta-Alanine causes a side effect called paresthesia (a tingling and itching sensation on the skin of your face and body), Yohimbe causes numerous side effects that we'll list below, and the 300mg Caffeine per serving is likely to cause jitters and energy crashes.
For this reason, we especially recommend that you avoid Yohimbe and Caffeine dosages above 200mg per serving in pre-workout supplements.
Here's the potential side effects from taking BSN EndoRush: 
Paresthesia (Beta-Alanine)
Nausea (Yohimbe)
Anxiety (Yohimbe)
Headache (Yohimbe)
Jitters (Caffeine dosage over 200mg per serving)
Energy Crashes (Caffeine dosage over 200mg per serving)
---
BSN EndoRush Review Conclusion
Ultimately, a company with the reputation of BSN should have made a much better pre-workout here. We're disappointed to see that many key pre-workout ingredients have been missed out in EndoRush.
Instead, BSN EndoRush contains numerous ineffective ingredients such as Calcium Glycerophosphate and Magnesium Glycerophosphate. As well as a dangerous ingredient – Yohimbe.
[wp-review]
Check Out The Best Pre-Workouts This Year!
Here's the best natural pre-workouts on the market for:
Energy Boosts 
Enhanced Strength & Endurance 
Increased Focus
Skin-Splitting Muscle Pumps