Pros
Eurycoma Longifolia Extract can raise libido
Forskolin might raise T levels
Cons
Tribulus Terrestris can potentially cause prostate enlargement
Missing key T-Boosting nutrients (eg. Vitamin D3)
Not good value for money, in our honest opinion
---
---

About BioTest Alpha Male
Alpha Male is a testosterone booster supplement made by BioTest. It costs $49.95 on their website for 37 servings, with a serving size of 2 capsules per day.
The serving size could be much better; studies show that taking 3-4 capsules spread throughout the day keeps your body fuelled much better than 1-2.
From first glance, we're happy that BioTest have kept things nice and simple, without hiding ingredients in proprietary blends. But we're also not sure why a product only containing 3 nutrients in average dosages costs nearly $50.
Anyway, we'll expand on this in the next section where we'll analyze BioTest Alpha Male's nutrient profile. But first, we'll tell you more about the company behind it.
Who is BioTest? 
BioTest is a supplements company based in the USA. They market numerous different products, including this test booster, Alpha Male, and pre-workout supplements.
There wasn't much more information available about BioTest, so let's see which ingredients have been added to Alpha Male below…
---
BioTest Alpha Male Ingredients Explained
As we mentioned at the start of this review, there are only 3 ingredients in BioTest Alpha Male.
On one hand, it's good that there isn't an overload of unnecessary ingredients that have been added. But we would have hoped for at least 5 nutrients – especially as this testosterone booster is almost $50.
In our honest opinion, BioTest Alpha Male doesn't contain any key T-Boosting nutrient such as Vitamin D3. But as this is a highly rated product, we want to dig deeper and see whether it really works.
To do this, we'll take you through each ingredient in BioTest Alpha Male. By the end of this review, you'll have a good idea of how safe and effective this testosterone booster supplement really is.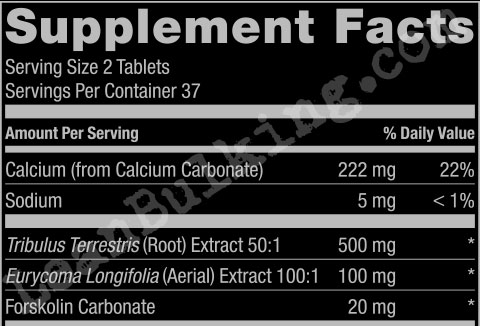 Here's Everything You Need To Know:
Tribulus Terrestris Extract 
If you've had a look at other test boosters before, then there's a high chance that you've heard about Tribulus Terrestris before.
This ingredient is often advertised as an effective T-Booster ingredient, so you might be surprised to hear that it's not actually proven to work. But that's not the worst part…
Tribulus Terrestris has also shown worrying signs of potentially being capable of causing prostate enlargement, which is something you want to avoid at all costs.
For these reasons, we personally choose to stay away from Tribulus Terrestris. And there are safer and better options that are tried-and-tested to boost your testosterone levels such as Vitamin D3, in our honest opinion.
Eurycoma Longifolia Extract 
We consider Eurycoma Longifolia Extract to be the best addition to BioTest Alpha Male; this is because it's shown to have a positive effect on your libido, which is a useful benefit to gain from taking a testosterone booster supplement.
You may have seen this in other T-Boosters before under the names 'Tongkat Ali' or 'LongJack'. It's a herb that's been used in ayurveda (traditional Indian medicine) for decades to raise libido.
However, the bad news is that Eurycoma Longifolia Extract hasn't shown to be capable of raising your T levels. So we can't cconsider it to be a key addition to any test booster on the market.
Forskolin Carbonate 
Also known as Coleus Forskohlii, this is a promising ingreident and might become more reliable in the future; it's believed to raise your T levels and promote fat loss simultaneously, but nothing has been proven yet.
If it is proven to deliver both of these benefits in the future, then it'll be enough to make a product worth buying on its own. But it is very unreliable due to the lack of research conducted on this nutrient at the time of writing.
It's clear that BioTest have really relied on Forskolin Carbonate being effective while formulating BioTest Alpha Male. While we like this leap of faith, we can't consider it to be better than tried-and-tested nutients such as Vitamin D3 at the moment.
---

---
Most Effective Test Booster Ingredients
As this BioTest Alpha Male review is quite negative, we don't want to seem like we're criticizing it without any evidence to back up our claims. For this reason, we're giving you a quick overview of what you should be looking for in your search for the best testosterone booster.
Simply put, the best T-Boosters deliver these benefits:
Increased Testosterone Production
Enhanced Libido
Pack on Lean Muscle Faster
We strongly believe that these are the 3 key benefits of purchasing taking these supplements – why else would you buy one?
Personally, these are the main reasons why we tried numerous testosterone boosters – before finally finding our top 3 favorite products. The reason why it took almost 20 years to find a test booster that actually works, is because there's so much sh*t on the market – it was like trying to find the best grain of sand in a beach.
Anyway, especially after starting to work in the supplements industry, we noticed that there were key ingredients to look for in these supplements…
Here are the ingredients that are proven to raise testosterone levels:
Vitamin D3 – This is technically a hormone that's proven to be safe and reliable. This is how good it is: Doctors believe if you're going to choose just one ingredient to benefit your overall health, then Vitamin D3 is the best option. What's even better, is that it's shown to significantly increase testosterone levels in numerous studies. One thing to remember; make sure to consume the optimal dosage (at least 3,332IU per serving).
D-Aspartic Acid – DAA  is very important, as it helps to regulate your testosterone levels. For this reason, giving your body a helping hand by supplementing between 2,000mg-3,000mg can really give you that 'kick' of testosterone that you need as you get older. DAA is one of our favorite ingredients and deserves a place on this list.
Fenugreek – This herb has been used in Ayurveda (traditional Indian) medicine for centuries. So what does it do? Well, it's proven to boost libido and testosterone levels in numerous studies. The best thing about Fenugreek is that it's effective in dosages as small as 50mg (meaning Fenugreek's a reliable addition to any T-Booster that you don't need in huge amounts).
Asian Red Panax Ginseng – This is not often seen on ingredient lists of testosterone boosters – it's not well known, and we know that companies prefer to add more 'reputable' ingredients such as Tribulus Terrestris (but Tribulus Terestris has shown to be ineffective in numerous studies). This is where Asian Red Panax Ginseng comes in; it's proven to have a positive effect on your T-Levels, and even your general health (making it an all-around great ingredient).
---

---
BioTest Alpha Male Side Effects
The good news is that 2 out of the 3 ingredients in BioTest Alpha Male are safe from side effects.
However, as we mentioned earlier in this BioTest Alpha Male review, Tribulus Terrestris Extract has shown to potentially cause prostate enlargement; this is something that should be avoided at all costs, as it can lead to more severe male health issues, in our honest opinion.
Here are the potential side effects of taking BioTest Alpha Male: 
Prostate Enlargement (Tribulus Terrestris Extract)
---
BioTest Alpha Male Review Conclusion
We can see why BioTest Alpha Male is a popular product on the market; it contains the potentially great Forskolin, which could become a key addition to all T-Boosters if proven to be reliable in the future.
But for now, there simply aren't enough studies to prove that Forskolin is safe and effective. We can't recommend unreliable ingredients that have a high chance of being ineffective, so this is one of the reasons why we believe tried-and-tested nutrients such as Vitamin D3 are much better at the time of writing.
Overall, BioTest Alpha Male is clearly a respectable test booster and has the potential of being a great product with a few extra nutrients added to it. However, we simply can't justify paying almost $50 for just 3 ingredients when there are products containing between 5-10 nutrients at a similar price.
[wp-review]
Check Out The Best Test Boosters This Year!
Here's the best natural testosterone boosters on the market for:
Faster Muscle Gains
Quicker Recovery Time
Decreased Belly Fat
Enhanced Energy & Sex Drive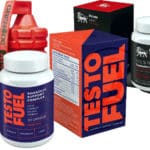 Click Here to See the Full List!