Pro's
Optimal dosage of D-Aspartic Acid
Fenugreek shown to raise testosterone levels
Con's
DIM can raise estrogen levels
Eurycoma Longifolia Extract doesn't improve test levels
Contains 2 proprietary blends
Not good value for money
---
---

About The Product
DAA Test-5 is a testosterone booster made by ANS (Advanced Nutrition Systems). It costs $99.99 for 24 servings, making this the most expensive test booster we've reviewed (for the same amount of servings).
How To Take 
It's advised that you take 2 capsules per day on the bottle. We prefer test boosters offering 3-4 capsule servings per day; this allows your body to stay topped up with essential test boosting ingredients needed to raise its testosterone.
Ultimately, 2 capsule servings will only stay in your system for 3-4 hours – you want to be fuelled all-day-long with 3-4 capsules to get the best results.
Anyway, we'll tell you about ANS (Advanced Nutrition Systems) before analyzing DAA Test-5's nutrient profile in the next section.
Who are ANS? 
As we've mentioned, ANS stands for 'Advanced Nutrition Systems'. Their 'about us' section was only 3 sentences, so we didn't learn anything about this company (such as when it was founded etc).
But one thing we do know is this; how good DAA Test-5 is, which we'll be explaining below.
---
DAA Test-5 Ingredients Explained
There wasn't much information about this company on their own website, and GNC.com's advertisement page doesn't deliver much information about what's inside either.
In fact, this is the first time we've seen a proprietary blend that doesn't acknowledge the exact ingredients inside (usually they only hide the dosages of each ingredient inside). We'll give you a quick explanation about what proprietary blends are below…
PROPRIETARY BLEND WARNING…
Proprietary blends are mixtures of numerous ingredients that're only shown to you as 1 quantity. As you can see from the 'DAA Test-5 Complex' on its ingredient list, the overall amount is 176mg – but you're not shown the dosages of each ingredient.
This increases your risk of side effects, and also makes it uncertain whether this testosterone booster will work. For this reason, we try to avoid any supplement that contains proprietary blends.
Now you know what proprietary blends are, and why they're bad; we'll analyze the ingredients inside DAA Test-5 for you.
By knowing whether the ingredients are good or bad in DAA Test-5, you'll be able to see how effective this testosterone booster really is.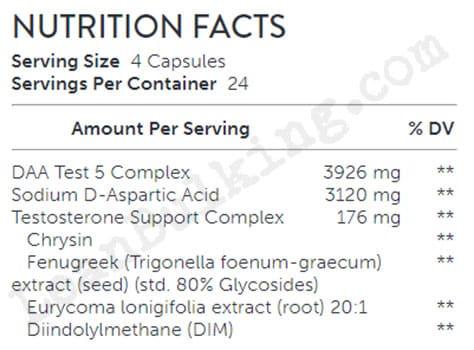 Here's Everything You Need To Know:
DAA Test-5 Complex
As we've mentioned, this is the proprietary blend that doesn't show which ingredients are inside. For this reason, we're unable to analyze this blend – so we have to assume that it's not worth knowing about.
Think about it; if a company spends money to dose effective ingredients correctly, they'll make sure its part of their advertisements. If it's hidden, it usually means they're hiding cheaper, ineffective ingredients while trying to make you believe it's better than it really is.
So don't be fooled; this DAA Test-5 Complex appears to be a waste of space here.
D-Aspartic Acid 
We just slated the proprietary blend above, but D-Aspartic Acid is a great addition to any testosterone booster here (and is the ingredient that ANS's test booster was named after).
D-Aspartic Acid has proven to raise test levels in numerous studies when consumed in dosages above 2000mg. As DAA Test-5 contains 3120mg, it'll be effective here.
We just wish that ANS provided the list of nutrients that are part of the DAA Test-5 complex.
Testosterone Support Complex
This is the second proprietary blend inside DAA Test-5. As you should know by now, the dosages of each ingredient are hidden from you – with the overall quantity only provided (176mg).
So we'll do what we can and tell you about the ingredients inside this 'Testosterone Support Complex'…
Chrysin 
This is a compound most commonly found in honey. But we were pretty shocked to hear how it works; studies have shown it only boosts testosterone levels when injected into the testicles.
We don't know about you, but we won't even consider injecting anything into our testicles…
But that's not the main problem here; as DAA Test-5 is a oral supplement, this means Chrysin is ineffective anyway (meaning it has no effect on your test levels).
---

---
Fenugreek Seed Extract 
Fenugreek Seed Extract is one of our favorite ingredients in a test booster; it's proven to raise your libido and testosterone levels in numerous studies.
But here's the problem; as it's part of a proprietary blend, Fenugreek Seed Extract might not be contained in a high enough dosage for it to work.
Ultimately, this is a great example of why proprietary blends are bad (and shouldn't be used by companies).
Eurycoma Longifolia Extract 
Also known as 'Malaysian Ginseng' or 'Tongkat Ali', this ingredient has shown to raise your libido. But the main problem is this; Eurycoma Longifolia Extract hasn't shown to raise your test levels in any studies.
For this reason, we don't consider this ingredient a key test boosting ingredient. Another problem is that Eurycoma Longifolia Extract might be taking up most of the space in this 'Testosterone Support Complex' blend – meaning the whole blend wouldn't be effective at raising your test levels.
Again, this is a great example of why you shouldn't buy supplements containing proprietary blends.
Diindoylmethane 
Otherwise known as 'DIM', this is a compound found in green vegetables (in very low amounts). It's shown to be able to stop testosterone converting into estrogen.
However, no natural test booster will be strong enough to encourage your body to convert testosterone into estrogen (only steroids do this).
For this reason, 'DIM' isn't needed here. But here's the big problem; when DIM is consumed in high amounts (over 100mg per serving), it can actually cause your estrogen levels to rise (which is the opposite to what you want when buying testosterone booster supplements).
As this 'Testosterone Support Complex' blend has an overall dosage of 176mg – you're at risk of this side effect.
---

---
Side Effects
Although we don't know which ingredients are inside the 'DAA Test-5 Complex', we do know that DIM can cause a side effect.
We've already mentioned it above, but for those that skimmed this review; DIM can raise your estrogen levels when consumed in dosages above 100mg per serving.
For this reason, DIM is one of the worst ingredients to add into a proprietary blend (and proprietary blends shouldn't be used by companies anyway).
Here's the potential side effects from taking DAA Test-5: 
---
DAA Test-5 Review Conclusion
We can't recommend this testosterone booster; it's one of the only ingredients we've reviewed that doesn't show you which ingredients are inside its proprietary blend.
Ultimately, you should know exactly what you're putting into your body to stay safe. This is why we always criticize products that contain proprietary blends (and DAA Test-5 contains the worst blend we've seen!).
The only good things about DAA Test-5 is this; it contains D-Aspartic Acid & Fenugreek Seed Extract, which are both great for raising your test levels.
However, it can't compete with the best test boosters on the market (which contain between 7-9 tried-and-tested ingredients proven to work, not just 2).
[wp-review]
See The Best Test Boosters This Year!
Here's the best natural testosterone boosters on the market for:
Faster Muscle Gains
Quicker Recovery Time
Decreased Belly Fat
Enhanced Energy & Sex Drive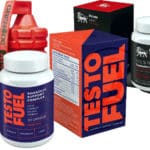 Click Here to See the Full List!