Pros
Contains some tested thermogenics such as Cayenne Pepper Extract
Coleus Forskohlii is one of the more exciting advancements found in fat burners
Cons
All ingredients are part of 3 big proprietary blends
This means that you don't know the exact dosage of caffeine (increased risk of jittery side effects)
Synephrine has become known as a potentially harmful ingredient
There are better options on the market, in our honest opinion
---
---

About the Product: 1-DB Overdrive
1-DB Overdrive is a fat burner supplement made by 1st Phorm. Clearly, due to it being a fat burner, it's designed to encourage your body to burn more fat – being named an "advanced fat loss acceleration system".
1st Phorm have gained a great reputation in the industry for their potent formulas. This usually attracts those that enjoy big caffeine servings to ramp up their energy levels.
From first glance, we see some positives about 1-DB Overdrive when looking at its nutrient profile. We're big fans of both Cayenne Pepper Extract, as well as Coleus Forskohlii; these are 2 of the most tried-and-tested thermogenic ingredients you can find in any fat burner supplement.
However, you simply can't ignore the fact that all ingredients are part of 3 different proprietary blends…
What are proprietary blends?
Well, they are mixtures of numerous different ingredients that are presented to you under a (typically) fancy name.
In the case of 1-DB Overdrive, you can spot the 3 proprietary blends that are titled: GSD Complex, BioTherm, and Balance Blend.
So what's so bad about them?
The answer to the above question is that you can't see the exact dosages of the individual ingredients that are part of proprietary blends.
This can be potentially harmful when a blend contains unknown dosages of stimulants such as Caffeine Anhydrous or Synephrine (overdosing on stimulants leads to jittery side effects and energy crashes).
Anyway, instead of rambling on about 1-DB Overdrive's supplement facts label in the intro here, we'll tell you a bit about 1st Phorm before we get stuck in.
Who are 1st Phorm?
As we mentioned, 1st Phorm have gained a positive reputation in the supplements industry. This is good news, since it's an industry that can be pretty murky at times.
The target customers for 1st Phorm are definitely the 'bodybuilding' crowd, or females that want to be fitness models. Nothing wrong with that – in fact, we fit into that category ourselves.
We also really like the fact that all 1st Phorm products are made in the USA. Guaranteeing good quality manufacturing processes are being followed.
Overall, we like 1st Phorm as a brand here at LeanBulking.com.
---
1-DB Overdrive Ingredients Explained
We went through our 1st opinion regarding 1-DB Overdrive in our intro above. But in this section, we'll be giving you the full analysis of 1-DB Overdrive's Supplement Facts Label.
As mentioned, there is a lot to like about this fat burner. You can't argue with the inclusion of thermogenic nutrients such as Cayenne Pepper Extract [1] and Coleus Forskohlii Extract [2] – there are tons of clinical studies that show they work.
But, as we also mentioned, there some issues. Including stimulants such as Caffeine Anhydrous and Synephrine hiding in unknown dosages in proprietary blends.
Anyway, we'll take you through each ingredient in this fat burner. By the end of this review, you'll have a good idea of whether you'll want to try it out for yourself.
Here's everything you need to know about 1-DB Overdrive…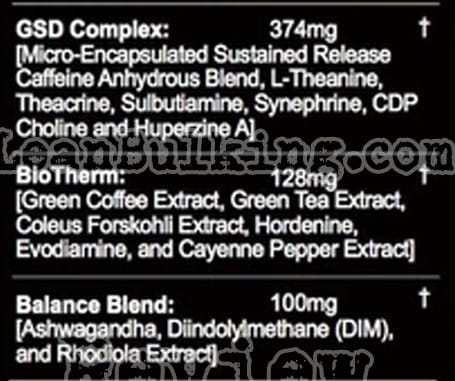 GSD Complex (374mg)
This is the 1st proprietary blend that appears on 1-DB Overdrive's supplement facts label.
It contains:
Caffeine Anhydrous 
L-Theanine
L-Theacrine
Sulbutiamine
Synephrine 
CDP Choline
Huperzine A
We've bolded the ingredients above that are stimulants. Meaning they're capable of boosting your energy levels.
However, you'll also know if you've ever had that one cup of coffee too much…that stimulants can cause jittery side effects and energy crashes too.
While you know that the overall dosage of the GSD Complex proprietary blend is 374mg, you're not shown the individual dosages of each ingredient contained within.
That means you're potentially at risk from 'overdosing' on stimulants. Especially if you have a low tolerance of stimulants (I'm looking at you, guys that only drink 1 cup of coffee per day or don't drink any coffee at all).
As a result, we can't recommend proprietary blends that contain stimulants in any scenario.
BioTherm 128mg
This is the second proprietary blend listed on 1-DB Overdrive's supplement facts label. We believe it's probably the best out of the 3, due to it containing 2 of our favorite fat burner ingredients – Cayenne Pepper Extract and Coleus Forskohlii Extract.
Here are all the ingredients found in the BioTherm proprietary blend:
Green Coffee Extract
Green Tea Extract
Coleus Forskohlii Extract
Hordinine
Evodiamine
Cayenne Pepper Extract
In fact, apart from 2 ingredients (Hordinine and Evodiamine) we actually really like every nutrient in this blend. In our personal opinion, these are great thermogenic ingredients that should help you towards your fitness goals.
The only reason we don't really like Hordinine is because it's chemical structure is similar to a stimulant; it's naturally found in bitter orange extract, which we personally wouldn't recommend either.
What about Evodiamine? Well, it's shown to work in studies involving mice. But that's not enough to convince us (just our honest, subjective opinion). This is because other thermogenics such as Cayenne Pepper Extract have been proven to work in numerous studies that have involved human subjects.
Balance Blend 100mg
The third and final proprietary blend found in 1-DB Overdrive's supplement facts label.
It's also going to pretty quick to analyze, because it only contains 2 ingredients (which isn't a bad thing at all):
Ashwagandha
Rhodiola Extract
We don't have anything bad to say about this Balance Blend at all.
Apart from the fact that it's a proprietary blend (so you don't know the individual dosages of either Ashwagandha or Rhodiola Extract). These are among 2 of the safest ingredients found in this whole fat burner.
And providing they are dosed optimally, they'll be beneficial too. Not for fat burning, though.
Why?
Well, Ashwagandha is known for it's ability to improve strength and benefit you in testosterone boosters. While Rhodiola Extract is a nootropic ingredient; meaning it's able to improve your cognition (help you perform better mentally).
Not a bad way to finish up the analysis of 1-DB Overdrive's ingredients. Good job by 1st Phorm with this Balance Blend.
---
---
1-DB Overdrive Potential Side Effects
We've mentioned (probably) a hundred times in this review that 1-DB Overdrive contains proprietary blends.
For those that skimmed our whole review of this fat burner and came straight to this section…
You simply don't know the individual dosages of ingredients that are part of proprietary blends – which becomes an issue when a blend contains stimulants such as Caffeine Anhydrous and Synephrine (which 1-DB Overdrive does).
As a result of consuming unknown dosages of stimulants, you might be at risk from:
Jitters
Energy Crashes
Insomnia (if taken late at night)
Of course, everyone is different so no-one can say for sure whether any fat burner will cause side effects.
---
1-DB Overdrive Review Conclusion
Overall, 1-DB Overdrive isn't the worst fat burner we've reviewed on this site. Far from it – it's actually not bad and it's certainly a lot better than some products we've seen out there.
We respect that 1st Phorm have conducted research before formulating 1-DB Overdrive; this has led to the inclusion of cutting edge fat burner nutrients being included, such as Coleus Forskohlii (which is still fairly 'new' to the world of fat burners compared to other ingredients that have been around for decades).
We also like that there are many tried-and-tested thermogenic nutrients such as Cayenne Pepper Extract and Green Tea Extract included in 1-DB Overdrive's supplement facts label.
However, we just can't ignore the fact that every ingredient is part of a proprietary blend. And that there are 3 stimulants in a single proprietary blend – meaning you're consuming unknown dosages of 3 stimulants at once (which could cause those with a lower tolerance to caffeine some issues, in our honest opinion).
As a result, we don't think that it beats our Best Fat Burners ranked this year. Still, it's certainly a respectable addition to 1st Phorm's line up.
[wp-review id="8864″]
---
References: 
[1] Zheng, J. Dietary capsaicin and its anti-obesity potency: from mechanism to clinical implications. Biosci Rep. 2017 Jun 30; 37(3): BSR20170286.
[2] Loftus, H. Coleus forskohlii Extract Supplementation in Conjunction with a Hypocaloric Diet Reduces the Risk Factors of Metabolic Syndrome in Overweight and Obese Subjects: A Randomized Controlled Trial. Nutrients. 2015 Nov; 7(11): 9508–9522.