Pros:
100% natural ingredients
Doesn't include any banned substances stipulated by the World Anti-Doping Association
Ingredients offer multiple proven benefits to restore and improve testosterone levels
FREE global shipping on any order size
Massive dose and huge bottle
Enhances libido
Cons:
Cannot ship to Brazil or Japan
Gelatin capsule
Only available direct from MilitaryMuscle.co
---
---

About The Product: Military Muscle
Military Muscle is a testosterone booster. It's produced by a company called Mil-Tech Pharma Ltd, who have locations both in the USA and UK.
Each container contains 180 capsules (daily serving size of 6 capsules) which offers a one month supply.
This means that each daily serving consists of 6 capsules – directed to be taken in 3 doses of 2 caps – and 3859mg accross 11 ingredients. This accumulation of dosages and abundance of proven ingredients means that Military Muscle will help your body to stimulate as much testosterone as possible throughout the day.
There might be a slight issue for those that don't like spending fairly big on supplements. Okay, the price tag is a little heavy at $65. But shipping on all of their options are free and there's an automatic discount of 15% for orders of 2 or more bottles on overall purchase prices.
This results in almost a $10 reduction per bottle.
I actually just bought one bottle at first to see if it really was worth the hype. And I felt great after using it for just one month. So much so, I bought more later on.
Who are Mil-Tech Pharma Ltd?
Mil-Tech Pharma are based in both London and Houston. London is particularly key from a distribution point of view as it is well located for global shipping. So there shouldn't be any issues if you are located outside of the USA.
Additionally, their London office is located very close to a lot of research institutions and universities. They say that their product is the result of over 3 years of R&D, benefiting from soldier and athletes' input, not to mention plenty of scientific evidence.
Not only that, production of this testosterone booster is in the UK and within a facility that is FDA and BRC global standards accredited. This reflects the premium product that it is; it's much better to buy products made in either the USA or UK  so you know that you're getting a product created in premium facilities.
The capsules are clear gelatin (unfortunately this does mean that it's not vegetarian/vegan friendly), which literally gives us a transparent insight in to the formula.
No issues with the delivery of Military Muscle
My parcel arrived well packed. And it was tracked so we could see where it was in the shipping process. It also had to be signed for by myself when it arrived; I received a notification when it was shipped by the team.
There were no delays.
To dispel and concerns, there's a 90 day money back guarantee. The slightly bad news is that this money back guarantee is only valid on orders of 3 bottles.
What makes it stand out?
The first thing to hit you is the size of the bottle. 180 capsules that are full to the brim of nutrients requires a big container.
Military Muscle Contains 11 Ingredients, in big, Relevant and Clinically Proven Dosages.
There's a lot of evidence behind Military Muscle. This means that we get the proven effects as stipulated by science. And as mentioned, I didn't experience any side effects while taking this testosterone booster either.
It is key to remember each ingredient is natural and doesn't feature on the banned list of substances by wither WADA or the Department of Defense.
Of course, the benefits are a result of ingredients such as Vitamin D3, Fenugreek and Ashwagandha. All of which of provided in the doses that, according to the research, are effective.
So, if you are looking to improve your overall physical and mental performance, you should give Military Muscle a shot…pun intended!
---
Benefits of Military Muscle
Improved muscle definition and strength – Gym performance rocketed
Better recovery times i.e less DOMS – I could train again much sooner
Increased libido – Much more desire in the bedroom
'Felt' better overall – Elevated mood
*You can only buy Military Muscle direct from their official website: www.militarymuscle.co
---
Why did I buy Military Muscle?
There are some great product on the market already. But many of these are massively overshadowed by proprietary blends that most likely offer no benefit (in our honest opinion).
These ineffective products that can be bought cheaply on many online market places do not do the supplement world any justice. But they are cheap enough to just convince you to 'try' them.
Military Muscle is different. Okay, it is more expensive, so there's a higher perceived risk.
However, there's a money back guarantee available and the reassurance this is used by athletes and soldiers. I was actually outreached by the founder who is an active, serving soldier – so you can be sure that there are no banned substances in this testosterone booster.
This is what convinced me to try Military Muscle:
100% natural and 'not banned' ingredients – No problem with usage, even if you are an athlete or military personnel.
90 day money back guarantee – Clearly Mil-Tech Pharma have confidence in their product.
Many positive customer testimonials – These are available on their site and come from people in sport and the military.
Free global shipping on ALL orders (even on 1 bottle orders) – It is rare these days for shipping to be free, even on low volume orders, so this is a big plus for us.
Manufactured in FDA and Global Standards accredited faculties in the UK – This is not a cheap Eastern import. Don't risk your money or health buying products made in areas with low regulation or safety policies in place.
Transparent nutrient profile – So many products hide their nutritional profile behind a proprietary blend. This gives them a legal right to only offer trace amounts and lots of filler.
---
Experience Buying Direct from Military Muscle's Website
It can be a concern to some when buying directly from a site you've never visited before. However, sou cannot buy Military Muscle from any of the big stores such as GNC, Vitamin Shoppe or even Walmart – it's not available on Amazon either.
So, whether you like it or not, it does mean that you have to buy direct from Military Muscle. The good news is that I didn't encounter any issues when making a purchase from their website; I haven't been hit with any recurring charges, even months after my initial purchase.
These are the benefits that I found from buying from their website:
Secure payments – You can pay by card, PayPal, Amazon Pay and Apple Pay. All payments being secure and safe.
Best prices guaranteed – There's no fluctating prices or spend time comparing between retailers to save a few cents. There's no middle man, you're getting the best value.
Free global shipping – Each order is processed and shipped from their distribution hub direct to your door. Or even place of work.
Tracked and signed for – You can see where your parcel is anywhere in the world and for security, it has to be signed for. No lost parcels that cannot be traced.
Multi-buy deals – Buy more and save. No middleman, plus shipping is cheaper on larger orders, so they are passing the savings on to you.
Only pay for what you buy – Over recent years there have been a number of companies that enter you in to a reoccuring charging plan. Military Muscle do not do this.
The bottom line is: don't bother looking for this anywhere else.
Regardless of your location, head over to militarymuscle.co where your local currency is displayed and you will get free tracked shipping with the best price.
---
Military Muscle's Customer Support?
Another benefit of buying direct is that your get to speak to the people who know the product inside and out. Not someone from a store who has to know a little about a hell of a lot of other products.
It's actually pretty easy to contact the founder of this supplement. He doesn't hide away because he doesn't have anything to hide. And I've probably already mentioned that he's an active, serving soldier – respect.
You can contact them direct from the site via the chat function or email them at [email protected]
---
---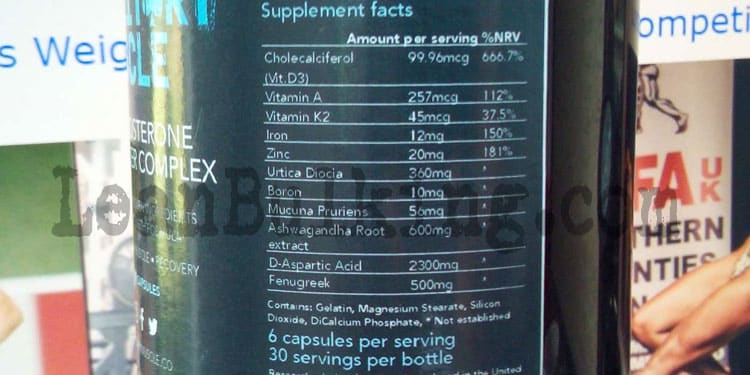 Military Muscle's Ingredients Explained
This is where it counts.
All of the best imagery and website development in the world won't help if the product doesn't work. That's the bottom line.
The ingredients need to be beneficial. No 'ifs' or 'buts'. Not only that, the doses need to be in measurements shown to work in clinical studies – or you could be being sold a lie.
That means there's no point having low doses of proven ingredients, because they will have no benefit. So it's about getting both the ingredients and their dosages right. That is what determines whether a product is even worth taking a look at.
Thankfully, Military Muscle does not disappointing on both of these aspects.
That is because it delivers a large daily dose of proven, 100% natural ingredients.
Furthermore, the doses are also at proven levels. This is why the daily serving size is 6 capsules.
How does this help?
Well, it could stimulate more than just testosterone. This formula also claims to help promotes a reduction prolactin, inflammation and estrogens.
That means you benefit from a multi-dimensional testosterone booster which improves your overall performance.
The result? Stronger, longer sessions in the gym, and reduced recovery times so you can hit the gym again. Essentially packing more work in to your week.
Military Muscle Serving Size
To get optimal results from your supplement you need to spread the serving out over the course of the day.
This way you are not overloading your body with a massive amount of nutrients it may not be able to process and make use of all at once. Additionally, by spreading the dosage over a longer period of time, Military Muscle helps keep your levels of these key nutrients 'topped up'.
As a result, we were glad to learn that Military muscle provides 3 servings or 2 capsules per day. Another indication that the R&D team behind Military Muscle haven't cut any corners.
Ultimately, all of this verifies Military Muscle's claims of extensive research. As do the included ingredients, which we'll take you through below…
Here is Everything you Need to Know:
Vitamin D3
There's lots of studies that provide evidence that this vitamins, which is actually a hormone, helps increase testosterone levels. In fact, we always state that Vitamin D3 is one of our all-time favorite nutrients in any supplement; from being included in multivitamins to testosterone boosters, this 'sunshine vitamin' makes a positive impact.
A study [1] by the University of Graz, Austria demonstrates that 83mcg of vitamin D taken daily for 12 months helped double testosterone levels.
Military Muscle actually provides 99.96mcg for each daily dose. This means a dose of Military Muscle will keep your levels of vitamin D high, even if you cannot get enough sunshine. Which is a big issue for us, personally, as we're often sitting in offices.
Vitamin A
Scientists from the University of Illinois found a connection between vitamin A and testosterone. [2]
Yet, there is more. When combined with iron supplementation, it was found to be as effective as hormonal therapy. [3]
Iron
Clearly Military Muscle had to include iron to get those testosterone boosting benefits when combined with vitamin A.
It is important to understand that iron also produces hemoglobin which carries oxygen in the blood stream. [4]
However, it's also important to remember that the 'daily safe limit' for Iron is often set at 35mg. The good news is that Military Muscle contains 12mg; this is an effective enough dosage, while keeping you safe from the 35mg limit.
Zinc
There is a clear relationship between low zinc status and low testosterone as this study by the Wayne State School of Medicine, Michigan confirms [5]. Ever wonder why high amounts of zinc are found in aphrodisiacs?
Zinc also plays an important roll male sexual function which includes libido and erection performance. [6]
Urtica Diocia
Remember when we said that Military Muscle was multi-dimensional?
This is no more apparent when we look more closely at urtica diocia, commonly referred to as nettle.
Its supposed benefits include:
reduces inflammation
reduces aromatase [7]
inhibits prostate growth [8]
shown to increase testosterone
Boron
Studies report that 10mg of boron daily over just a period of one month doubled testosterone levels in both men and menopausal women.
Boron also help your body absorb magnesium more effectively and increases the half life of vitamin D whilst reducing inflammtion. [9]
Mucuna Pruriens
This is another nutrient that has lots of benefits, and not just for testosterone.
Often referred to as 'Velvet Bean' due to its appearance, Mucuna Pruriens can help prevent a rise of prolactin which reduces testosterone and sexual function. [10]
This nutrient can also lower stress levels, improve fertility and is a neuro-protector.
Ashwagandha
A study published in the American Journal of Men's Health demonstrated that a daily dose of 600mg over a period of 2 months increased mens testosterone levels. [11]
This 600mg dose also saw increases of strength and muscle. [12]
No doubt this is why Military Muscle includes 600mg per daily dose.
There's plenty of research papers and published reports that prove just how beneficial ashwagandha is.
D-Aspartic Acid
Published results by the University of Memphis have noted that a combination of vitamin D3 and D-AA together helped increase testosterone levels, increase libido, energy and vitality. [13]
Fenugreek
A daily dose of 500mg for 2 months helped participants of a study published in the Journal of the International Society of Sports Nutrition reduce fat while increasing strength. [14]
When supplementing for 3 months there was a notable increase of testosterone and libido. [15]
---
*Head over to the ingredients page at MilitaryMuscle.co to learn more.
---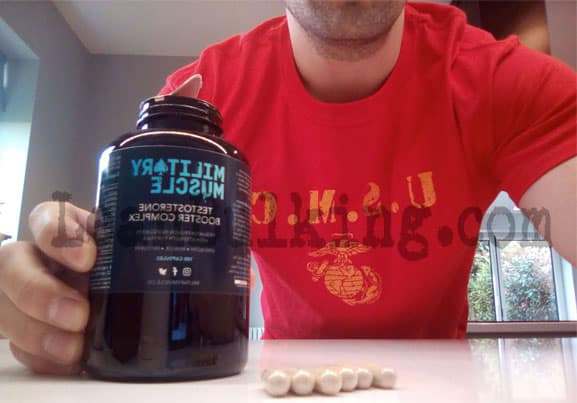 Other People's Experience with Military Muscle
Sometimes it is good to hear how other's have experienced a product. All people react differently, so if the reports are good overall, you can see that it's generally safe and legitimate.
Military Muscle is still a new product. But there are already many testimonials available on their site; this shows different people from military and sporting backgrounds giving their praise – a very positive indication.
I have also noticed some other positive reviews online, too.
My Experience with Military Muscle
Clearly having checked out the positive feedback regarding Military Muscle and speaking with the founder, I bought it myself.
Just some praise to the founder; he didn't try to 'sell' me his product, but gave in-depth discussions about his product and answered every question I fired at him. It also helps that he's an active, serving soldier so there's no BS there.
Anyway, as I mentioned earlier. I opted for the single bottle which still included free shipping and it was tracked as well – which removed any risk of it 'going MIA' (sorry for another military pun)…
When opening the box I was greeted with the massive black bottle. It is so much bigger than any of the other bottles of supplements I have at home. Not that this ultimately makes a difference, but the first impression was positive.
Another look at the ingredients gave me a great deal of confidence in the product. As did seeing all of the transparent capsules crammed with nutrients – too many times I've seen red capsules, so it's refreshing to see transparent capsules.
As you will have read above, the science behind the product is impressive.
I took Military Muscle for a month initially.
Quite frankly my results were great. I felt much better overall.
Much more energy
Increased motivation
My libido improved significantly
Gym performance elevated
Faster recovery rates
I could hit the gym on consecutive days with much reduced issue of DOMS (delayed onset muscle soreness).
---
Did I experience any side effects with Military Muscle?
Military Muscle is 100% natural, the doses are transparent and it is produced in a facility that adheres to high manufacturing standards. With no known allergens contaminating the process.
Within this unique formula are no banned substances. So if you are a competitive athlete, active soldier or are drug tested for work you will be okay.
One thing to note is that we cannot confirm if it is Halal or Kosher. The gelatin capsule is not suitable for vegetarians or vegans.
In quick summary, I personally experienced no side effects when taking Military Muscle.
---
Military Muscle Review Conclusion
In summary, this is a great addition to the testosterone booster market. It's great to see a recent release that isn't just big claims; Military Muscle contains the ingredients (in the right dosages) to actually work.
The sad thing is that finding a testosterone booster containing safe and effective ingredients has become increasingly difficult over the years.
With Military Muscle, the nutritional profile speaks for itself. The science is there and it's great to see that the founder of Military Muscle is an active, serving solider that's done tons of research.
The benefit of this is that Military Muscle doesn't contain any banned substances. So, if you're serving in the forces, you can be sure that you won't risk failing drug tests.
Furthermore, I enjoyed trying and testing this testosterone booster. No side effects and I did feel a positive impact – as did many others that have tried Military Muscle.
Initially I bought just the one bottle. But in the end I bought more and took advantage of the 15% discount on orders of 2 or more bottles. With their money back guarantee, there is no risk either.
---
*To Buy, Visit: www.MilitaryMuscle.co
---
References: