Pro's
Beta-Alanine can improve muscular endurance
Citrulline Malate enhances muscle pumps
Creatine can improve strength and endurance
Great dosage of Caffeine (200mg)
Con's
Beta-Alanine causes paresthesia (see side effects section for more info)
Citrulline Malate under-dosed (so not likely to be effective)
Agmatine Sulfate shown to be ineffective in numerous studies
---
---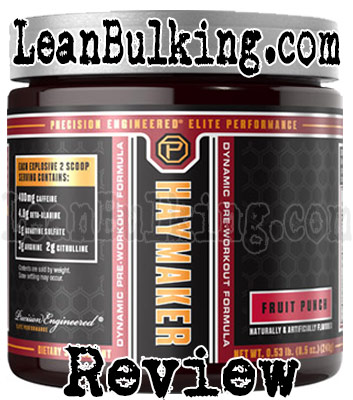 About The Product
Haymaker is a pre-workout supplement made by Vitamin World. It costs $31.99 for 20 servings (or 10 servings if you choose to have 2 scoops per serving) and it comes in 2 flavors - Fruit Punch, Watermelon and Sour Berry.
So basically, as weve just mentioned, you can choose to double scoop Haymaker pre-workout - but this also means that youll get half the servings as you would if taking 1 scoop per serving.
We believe its not worth double scooping, as paying $31.99 isnt worth it; for this reason, well be reviewing Haymaker pre-workout judged on its nutritional values for 1 scoop per serving.
Who makes Haymaker? 
When we searched for Precision Engineered Elite Performance, we couldnt find a website for the company - but Vitamin World were always first on Google, so this is possibly a brand owned by Vitamin World.
Its never a good sign when you cant find the company whos product youre buying - we always like to know that the company behind the supplement is trustworthy and ensure the highest quality manufacting.
Read on to find out how effective the ingredients are.
---
Haymaker Ingredients Explained
Haymaker pre-workout only contains 4 ingredients, so this will be quite a short section. We dont mind supplements containing this number of ingredients (wed actually prefer less than loads in products).
However, if a company is only adding a few ingredients, then they have to make sure theyre in optimal dosages. For this reason, well take you through each ingredient  - to show you exactly how good Haymaker really is.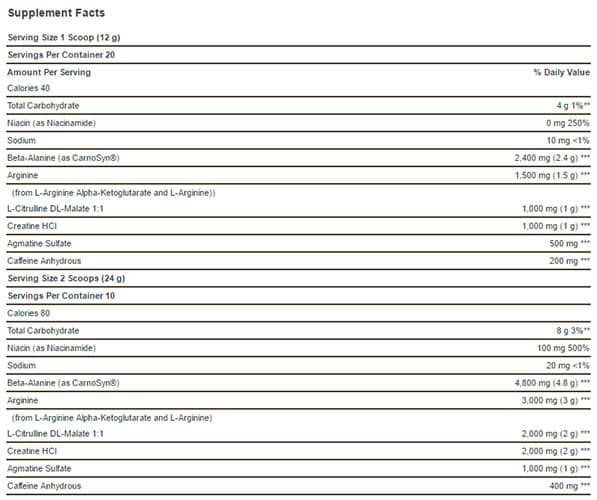 Heres Everything You Need To Know:
Beta Alanine 
We always have mixed opinions about Beta Alanine. Basically, it can improve your muscular endurance in the gym - but it causes paresthesia (see side effects section for more info).
For this reason, we prefer Creatine Monohydrate (which offers the same benefit without causing any side effects).
L-Arginine
This shows a lack of research by Vitamin World (by adding L-Arginine in Haymaker). Simply put, this ingredient has a poor absorption rate - meaning its ineffective in supplements.
So why do companies add L-Arginine to their products?
Well, L-Arginine is believed to enhance your muscle pumps in the gym. The best ingredient to experience better muscle pumps is Citrulline Malate (in dosages of 6,000mg or above).  #
Citrulline Malate 
Citrulline Malate is one of our favorite pre-workout ingredients as its proven to enhance your muscle pumps. It has a great absorption rate - meaning its very effective when orally supplemented.
Heres how it works: Citrulline Malate raises your nitric oxide levels, which makes more blood rush to your muscles while you lift weights (resulting in you feeling more pumped in the gym).
Studies have proven have proven that it works, and weve experience the benefits from taking Citrulline Malate ourselves . But theres a problem with Haymaker pre-workout - its been under-dosed here (to get the best results, you need a dosage of at least 6,000mg).
As theres only 1,000mg in Haymaker pre-workout, its not likely to work.
---

---
Creatine HCL
Also known as Creatine Hydrochloride, this is the newer form of Creatine on the market. However, as its newer, theres not many studies that prove its as good as Creatine Monohydrate.
Basically, we prefer Creatine Monohydrate as its been used by athletes since the 1990s - and everyone knows this works. Call us boring, but we stick to what we know and definitely know works.
Caffeine 
As weve said before, were reviewing the 1 scoop serving ingredient list - so this has 200mg Caffeine per servings, which is a great dosage (we always recommend that you consume a maximum of 200mg Caffeine per serving in a pre-workout (at least before you raise the dosage).
If you jump straight to above 200mg, then youll be at risk of suffering side effects such as jitters and energy crashes (those that have consumed too much coffee or energy drinks will know this).
Basically, when dosed sensibly, Caffeine will improve your strength, focus, energy and endurance in the gym - which are all great benefits thatll improve your gym session.
---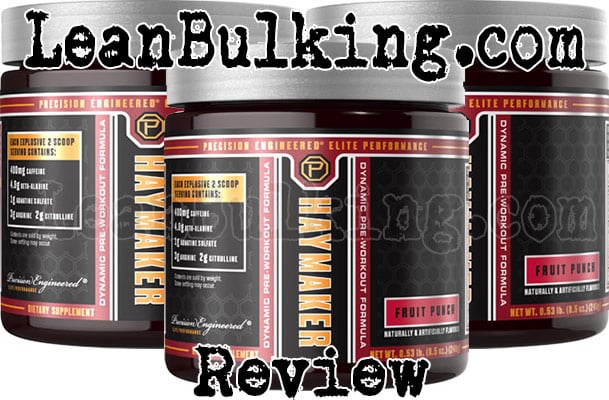 ---
Side Effects
The good thing is that none of the ingredients in Haymaker pre-workout will cause you any side effects in the one scoop serving. If youre going for the 2 scoop serving, then youll be at risk from jitters and energy crashes from the 400mg Caffeine dosage.
As a general rule, we always recommend you to stay under 200mg Caffeine per serving in pre-workouts.
---
Haymaker Review Conclusion
If Haymaker contained an optimal dosage of Citrulline Malate, we would have given it a 3 star rating - but as Citrulline Malates been under-dosed, we believe a 2.5 star rating is fair.
There are many better pre-workouts on the market that contain better ingredients in optimal dosages - so we recommend looking for these (to get the most bang for your buck).
However, we dont want to criticize Haymaker pre-workout too much either - we like that it doesnt contain any banned ingredients (such as Yohimbe or Synephrine), which many other companies add. We also like that no ingredients are hidden in any proprietary blends.
Bottom Line: Its the dosages that let Haymaker pre-workout down. Remember that Citrulline Malate requires a dosage of 6,000mg or above to work - weve reviewed pre-workouts that contain this, along with other key ingredients thatve shown to work, so Haymaker cant compete with those.
Check Out The Best Pre-Workouts This Year!
Heres the best natural pre-workouts on the market for:
Energy Boosts 
Enhanced Strength & Endurance 
Increased Focus
Skin-Splitting Muscle Pumps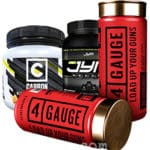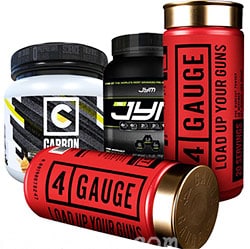 Click Here to See the Full List!